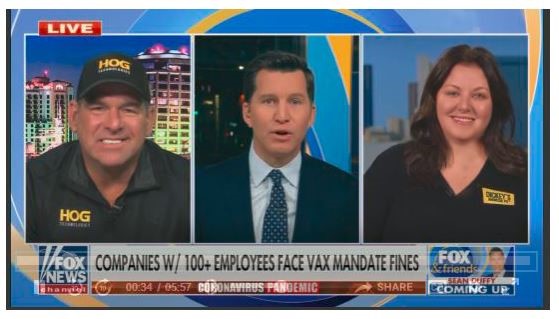 Laura Rea Dickey Takes A Strong Stance In Support Of Her Owner/Operators
In the midst of the Covid-19 pandemic, the Biden administration is implementing a federal mandate that requires companies with 100 or more employees to ensure that all employees be fully vaccinated or provide weekly COVID-19 testing to all unvaccinated employees. The mandate, which will take effect in January 2022, could cost businesses who do not meet the federal regulation deadline, thousands of dollars in fines. This is an obvious concern to Laura Rea Dickey, CEO of Dickey's Barbecue, because she entirely does not want something on the federal level to affect her owner operator salaries.
Because of the pandemic, stores have been struggling to find proper talent to fill the schedules as it was. Dickey has concerns that this is just another obstacle that owner operators will face. The Dickey's Barbecue CEO says that this is just not what the owner operators of her Dickey's locations need. The CEO has concerns for the logistic demands that the mandate will place on her owner operators and believes that this is not in the best interest of entrepreneurs across the country. With that being said, she has every intention to support her locations through the transition and navigating the implementation of said mandate.
Laura Rea Dickey: "What we really need the government to do, is to say: It is time to get back to work. It is time to get back in school. Go back to contributing". Laura Rea Dickey not only worries of the logistical barriers that will arise when trying to implement this type of regulation, but also mentions the possible infringement on religious beliefs and health-related privacy that the mandate will create.
The Dickey's Barbecue CEO also spoke about the possibility of false statements of vaccination being provided by workers who are just trying to work. A possible worry is that workers will feel pressure to falsify vaccination claims so that they can continue to work regardless of if they are experiencing COVID 19 delta variant symptoms. She says, "It's putting folks in that position to either possibly not be candid, which is a terrible situation, or walk away from their jobs if they truly feel like it's not in their best interests". The 80-year-old barbecue restaurant has always put its owner operators first and it is safe to say that the CEO is currently filled with concern regarding the effects this mandate will have on the owner of each store nation-wide.
Click here to watch the full interview.