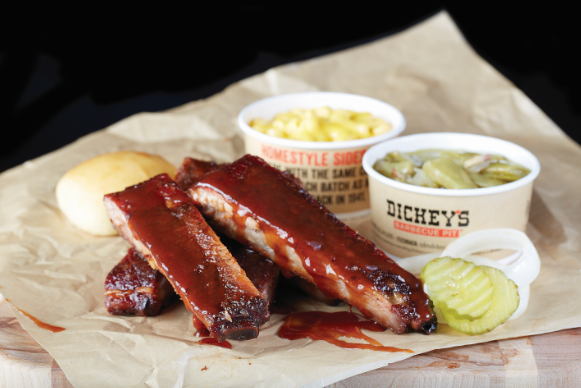 Dickey's Barbecue Pit Brings Authentic, Texas-Style Barbecue to the Golden State
'
The new location isslated to open in Carson, CA in Fall 2017
---
(Carson, CA)Dickey's Barbecue Pit will begin servingauthentic, slow-smoked barbecue to the residents of Carson in Fall 2017. Thenew Dickey's location will be owned and operated by local entrepreneur, EltonAnderson.
Find thenearest Dickey's Barbecue Pit location, here.
"Dickey'sBarbecue Pit is proud to have Elton Anderson join the Dickey's Barbecue Pitfamily," says Laura Rea Dickey, CEO of Dickey's Barbecue Restaurants, Inc."Dickey's has grown rapidly throughout the state of California, with the secondhighest number of locations behind that of our home-state of Texas, and we areproud to continue that expansion."
After movingto California from Belize looking for new opportunities, Anderson found just thatafter becoming an entrepreneur, partnering with his two siblings to open multipleWingstop locations. After selling their locations, Anderson decided to stay inthe restaurant industry by opening his own Dickey's Barbecue Pit.
As Andersonand his wife Denise were researching franchising opportunities, they had lunchat a Dickey's Barbecue Pit location near them and decided they loved the food,the concept and the brand so much that they needed to open one for themselves."Opening a Dickey's in our community is an amazing opportunity because thisarea is in need of authentic, Texas-style barbecue," says Anderson. "I amlooking forward to get involved with the residents of Carson and to serve themdelicious barbecue."
Find Dickey's on Twitter, Facebook and Instagram.
About Dickey's Barbecue Pit
Dickey's Barbecue Restaurants, Inc., the nation's largest barbecue chainwas founded in 1941 by Travis Dickey with the goal of authenticslow-smoked barbecue. Today, all meats are still slow smoked on-site in eachrestaurant living up to the company tagline, "We Speak Barbecue." TheDallas-based family-run barbecuefranchise offers a quality selection of signature meats, savory sides,tangy barbecue sauce and free kids' meals every Sunday. The fast-casual concepthas expanded to more than 600 locations in 44 states. In 2016, Dickey's wonfirst place on Fast Casual's "Top100 Movers and Shakers" and ranked in the top ten of Franchise Times' "Fastand Serious." Dickey's Barbecue Pit wasrecognized for the third year by Nation's Restaurant News as a "Top 10 GrowthChain" and by Technomic as the "Fastest-growing restaurant chain in thecountry." For more information, visit www.dickeys.comor for barbecue franchise opportunities call 866.340.6188.
###
'