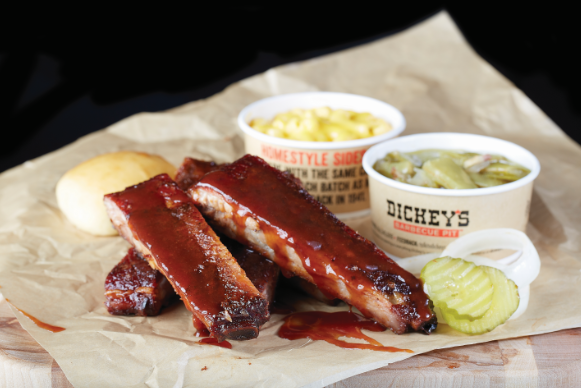 Dickey's Barbecue Pit Calls For Artwork Submissions to Be Featured as a Mural on Original Location
Two murals will bepainted on exterior walls of Dickey's first location to celebrate 75thanniversary
---
(Dallas, TX) Dickey'sBarbecue Pit has been passionate about the art of great barbecue since 1941,and is now looking for passionate artists to portray their great art as a muralat Dickey's original location. To celebrate the barbecue brand's 75thanniversary, Dickey's is calling for artists to submit artwork forconsideration to become a permanent feature on the store's external walls aslarge-scale murals. Two murals will be chosen. Selected artists will win $500and free barbecue for a year. Located at Knox-Henderson and North CentralExpressway, Dickey's first location is one of the oldest, continuously-runningrestaurants in Dallas.
Submissions will beaccepted until November 24, andcan be uploaded online via this submission form ormailed as a hard copy to:
Attn: Mural Contest
8150 North Central Expressway, Suite 200
Dallas, TX 75206
Submissions will not be returned.
To join Dickey's Big Yellow Cup Club, click here.
"Dickey's Barbecue Pit is an artisan brand, and we are proudto commission new works of art to feature prominently at our first and originallocation," says Roland Dickey Jr., CEO of Dickey's Barbecue Restaurants Inc. "Themural project will be a lasting symbol of Dickey's 75 years of servingauthentic, Texas-style barbecue, and we look forward to many more years ofserving communities around the nation and the world."
About Dickey's Barbecue Restaurants, Inc.
Dickey's Barbecue Restaurants, Inc., the nation's largest barbecue chainwas founded in 1941 by Travis Dickey with the goal of authenticslow-smoked barbecue. Today, all meats are still slow smoked on-site in eachrestaurant living up to the company tagline, "We Speak Barbecue." TheDallas-based family-run barbecuefranchise offers a quality selection of signature meats, home style sides,tangy barbecue sauce and free kids' meals every Sunday. The fast-casual concepthas expanded to more than 560 locations in 43 states. This year Dickey's wonfirst place on Fast Casual's "Top100 Movers and Shakers" and ranked in the top ten of Franchise Times' "Fastand Serious." Dickey's Barbecue Pit wasrecognized for the third year by Nation's Restaurant News as a "Top 10 GrowthChain" and by Technomic as the "Fastest-growing restaurant chain in thecountry." For more information, visit www.dickeys.comor for barbecue franchise opportunities call866.340.6188.
###