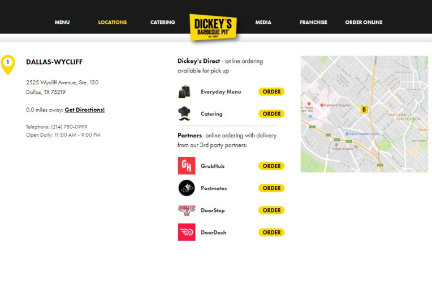 Dickey's Barbecue Pit Fires up Delivery Partnerships Nationwide
'
(Dallas, TX) Dickey's Barbecue Pit has partnered withmore than 50 delivery services across the United States to ensure guests canenjoy Texas-style barbecue without leaving the comfort of their homes. Most Dickey's Barbecue Pit franchises have partnered with vendors like GrubHub, DoorDash,UberEats, Postmates and Amazon, amongst many others.Through Dickey's newly redesigned website, guests have the ability to easilyplace online orders for what is most convenient to them whether it be deliverythrough these partners or in-store pickup.
"Folks idea of convenience has evolved to mean on demand,making delivery a guest expectation for most restaurants. We are takingmeasures to ensure its success for our brand and franchises," says Laura ReaDickey, CEO of Dickey's Barbecue Pit. "By offering third-party delivery throughdickeys.com as well as our partner's sites,we've extended our barbecue base. Third party delivery isn't revolutionary, butintegrating it seamlessly into our business is unique."
More than 20 new delivery vendors have been added sincethe beginning of 2017, with new partnerships being developed every week.Dickey's website is the first stop for many guests across the country and withthe new updates, it is even easier for guests to see the delivery optionsoffered at their local Dickey's store, view the menu, and place their order ina streamlined, user-friendly process.
"We pride ourselves on our ability to utilize technologyto best serve our guests," said Renee Roozen, President of Dickey's BarbecueRestaurants, Inc. "Third party delivery vendors allow our owner/operators tocontinue to focus on Texas-style barbecue and keep delivery costs low, whileproviding our guests ease in order and delivery."
To learn more about delivery for online ordering at theDickey's nearest you, click here.
To find the location nearest you, click here. Find Dickey's on Facebook, Instagram and Twitter.
About Dickey's Barbecue Restaurants, Inc.
Dickey's Barbecue Restaurants, Inc., the nation's largest barbecue chainwas founded in 1941 by Travis Dickey. Today, all meats are still slowsmoked on-site in each restaurant. The Dallas-based family-run barbecue franchise offersseveral slow-smoked meats and home style sides with 'No B.S. (BadStuff)' included. The fast-casual concept has expanded to nearly 600locations in 44 states. In 2016, Dickey's won first place on Fast Casual's"Top 100 Movers and Shakers" list and in 2017 again wona top 10 on the list. Dickey's Barbecue Pit has also been recognized byEntrepreneur Magazine, Franchise Times, and Nation's Restaurant News. For moreinformation, visit www.dickeys.com.
###
'