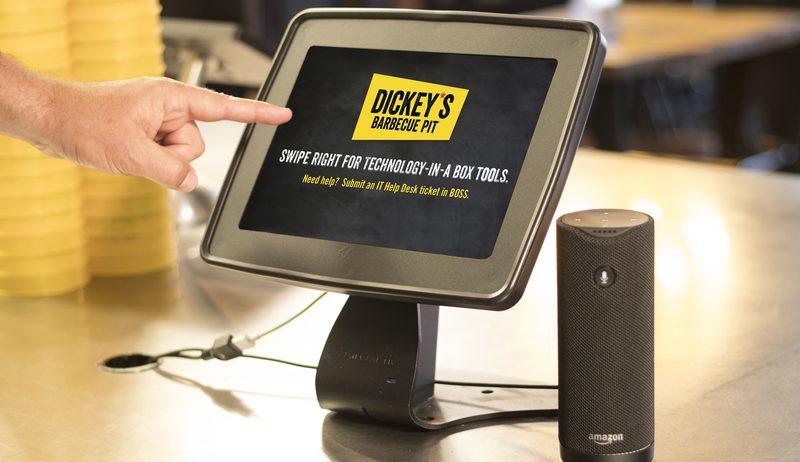 Dickey's Barbecue Pit Incorporates "Hey Alexa" to Enable Key Business Functions
'
(Dallas, TX) Dickey'sBarbecue Pit locationswill begin incorporating iOLAP's new Enterprise Voice Platform tocarry out daily business functions in the store. Dickey's, a known technologyleader in the restaurant industry, is adopting this new platform acceleratingthe development, deployment, operations and monitoring of Alexa Skills in thebusiness environment.
"In working with iOLAP tocustomize this technology for our restaurants, we are giving each of ourfranchisees a way to carry out key business functions hands-free in theirkitchens," says Laura Rea Dickey, CEO of Dickey's Barbecue Restaurants, Inc."At Dickey's, we are constantly looking for new ways to better our businessalong with our slow-smoked barbecue. This new technology means our franchiseescan retrieve key data without having to stop smoking ribs."
This new software gives Dickey'sOwner/Operators the opportunity to have store information a voice-command away,and is the second phase of Dickey's big data initiative.
"Smokestack, our proprietary data platform makes data accessible andactionable in our restaurants," says Dickey. "By layering in this newenterprise voice platform, we hope to make data even more restaurant friendly.We've worked a lot with iOLAP to optimize Alexa for the kitchen from the dataintegration to the right placement in the back of house. We've also beenthankful for franchisees that have opted in to further test thetechnology."
Dickey's Owner/Operators can askAlexa for their daily sales metrics, KPI analytics or even when the brisket intheir smoker should be finished smoking. That, coupled with the platform'sability to perform inventory analysis, food safety reminders and wastemanagement controls will help Owner/Operators better manage theirbusiness.
"I have been with Dickey's for over 20years, and I never would have thought we would be using an Alexa to carry outparts key of the business," says Owner/Operator Dale Smith. "I can continue todo what is important, which is smoking meats, while Alexa can easily give methe business metrics I need."


Tofind the store nearest you, click here.FindDickey's on Twitter, Facebook and Instagram.
About iOLAP
iOLAP, Inc. is a strategic dataconsultancy specializing in Big Data, Advanced Analytics, Business Intelligence(BI) strategy and Voice Solutions. They are completely focused on these marketsand bring a client-centric and business-focused perspective to all of theirengagements. iOLAP has been in business since 1999 with in-depth expertiseacross all EDW and BI technology areas, including the newest leading-edgeAdvanced Analytics, Data Visualization and Big Data architectures. They areearly innovators in the Voice Platform area and serve some of the world'slargest companies across all major industries. While other consultants arestill trying to figure it out, iOLAP has already delivered results, thanksto better people, strategy, delivery practices and methodology. Visit themonline at www.iolap.com/voice.
About Dickey's BarbecueRestaurants, Inc.
Dickey's Barbecue Restaurants,Inc., the nation's largest barbecue chain was founded in 1941 by TravisDickey. Today, all meats are still slow smoked on-site in each restaurant. TheDallas-based family-run barbecuefranchiseoffersseveral slow-smoked meats and home style sides with 'NoB.S. (Bad Stuff)' included.The fast-casual concept has expanded to nearly 600 locations in 44 states. In2016, Dickey's won first place on Fast Casual's "Top100 Movers and Shakers" list. Dickey's Barbecue Pit has also been recognized byEntrepreneur Magazine, Franchise Times, and Nation's Restaurant News. For moreinformation on Dickey's awards, visit www.dickeys.com.
###
'