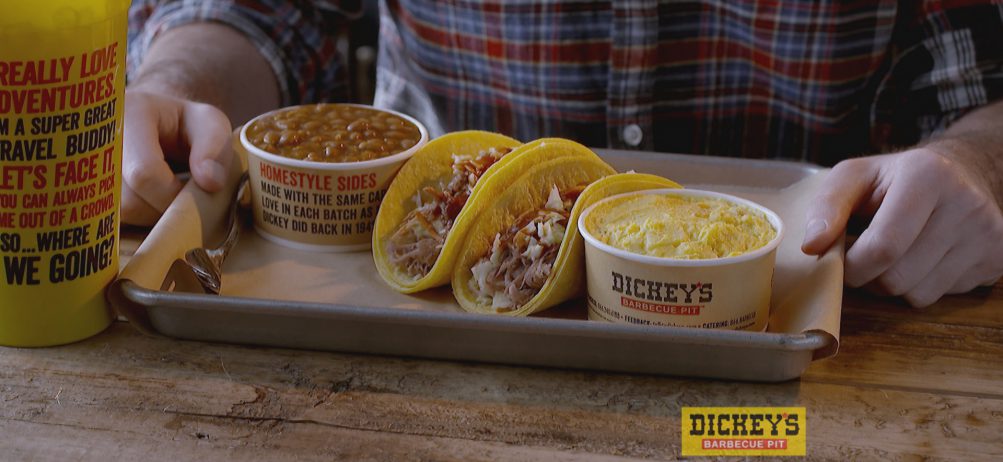 Dickey's Barbecue Pit Launches New Limited Time Offer Featuring Pulled Pork Street Tacos
'
Dickey's launches Pulled Pork Street Tacos following overwhelming success of first LTO in two years
(Dallas, TX) After tremendous success with Pulled Pork Sliders, the first LTO launched in two years, Dickey's Barbecue Pit has announced its newest limited time offer, Pulled Pork Street Tacos. This gluten-free offering includes Dickey's signature pulled pork with coleslaw and spicy barbecue sauce, packed into a traditional Mexican-style street taco with two four-inch corn tortillas to hold it all together.
The street taco promotion begins April 1, and is the main Q2 focus for Dickey's Barbecue Pit. Tacos can be added on to any order in-store, online or as a catering. Guests can either order two tacos for $3 or four tacos with one side and a Big Yellow Cup for $9.95.
Pulled Pork Street Tacos are also available in 24-count platters to feed any type of gathering from graduation parties to family get-togethers. Pulled Pork Sliders are still offered in 24-count platters as well. Guests can also now order Dickey's new signature desserts in 24-count platters. The dessert platter includes Dickey's new chocolate chunk cookie, blondie brownie and the recently re-launched pecan pie made with a new recipe that ensures each slice is a sweet, gooey piece of southern heaven.
"After the success of our first quarter LTO, we want to keep the momentum going with a fresh new offering," says Roland Dickey, Jr., CEO of Dickey's Barbecue Restaurants, Inc. "Dickey's saw a substantial increase in sales last quarter as a result of our limited time offer, and we are certain this new gluten-free offering will be a big hit with our guests."
To learn more about franchising with Dickeys, visit www.dickeys.com/franchise or call 866-340-6188.
To find the Dickey's Barbecue Pit nearest you, click here. Find Dickey's on Twitter, Facebook and Instagram.  
About Dickey's Barbecue Restaurants, Inc.
Dickey's Barbecue Restaurants, Inc., the nation's largest barbecue chain was founded in 1941 by Travis Dickey with the goal of authentic slow smoked barbecue. Today, all meats are still slow smoked on-site in each restaurant living up to the company tagline, "We Speak Barbecue." The Dallas-based family-run barbecue franchise offers a quality selection of signature meats, home style sides, tangy barbecue sauce and free kids' meals every Sunday. The fast-casual concept has expanded to over 540 locations in 43 states. Dickey's was recognized for the third year by Nation's Restaurant News as a "Top 10 Growth Chain" and by Technomic as the "Fastest-growing restaurant chain in the country." For more information, visit www.dickeys.com or for barbecue franchise opportunities call 866.340.6188.