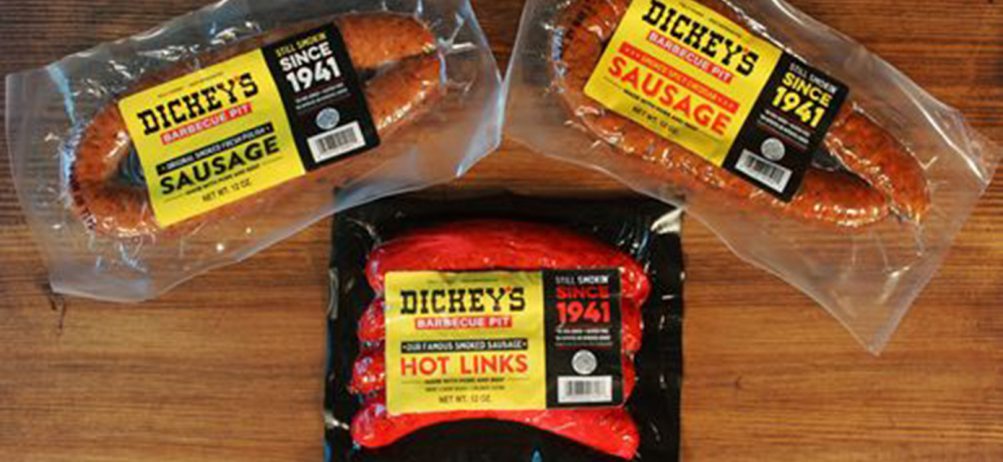 Dickey's Barbecue Pit Now Sells Signature Sausages in Select Texas Kroger Stores
'
The sausage will be available at over 105 Krogerlocations in the Dallas-Fort Worth Metroplex
---
(Dallas, TX)Starting this month, Dickey'sBarbecue Pit signature smoked sausages are available in Kroger locationsthroughout the Dallas Fort-Worth Metroplex. Dickey's Barbecue Pit has partneredwith Eddy Packing Co. to bring Dickey's delicious Original Smoked Fresh Polish,Smoked Spicy Cheddar and Red Hot Links to Kroger locations in Dickey'shometown.
"Our goal isto make Dickey's Barbecue Pit a national brand in the marketplace," says DeanSanders, Executive Vice President Sales and Marketing at Eddy Packing Co. "Weare excited to work with Dickey's Barbecue Pit on this venture and look forwardto the opportunity of expansion."
Dickey'sBarbecue Pit's line of sausage has seen success in its previous retail launchat Walmart and Dickey's looks forward to the partnership with Kroger to bringtheir delicious, high-quality sausage to 105 Kroger locations throughout the Dallas-FortWorth Metroplex.
All ofDickey's sausages are gluten free and contain no MSG, nitrates or nitrites.They also come naturally hardwood smoked, making them easy to prepare at home.
"We areproud to launch Dickey's signature smoked polish, red hot links and jalapenocheddar sausage in Kroger locations throughout the Dallas-Fort WorthMetroplex," says Tamala Fowler, Senior Vice President of Retail Sales andInternational Development at Dickey's Capital Group. "Dickey's guests can nowhave the same delicious sausage when they are cooking at home as they have whenthey visit their local Dickey's location."
During thelaunch of Dickey's Barbecue Pit's sausage in Kroger, guests can find Dickey'ssausage in stand-alone displays in each of the 105 Kroger stores.
To find theDickey's Barbecue Pit nearest you, click here.
FindDickey's Barbecue Pit onFacebook,Instagramand Twitter.
AboutDickey's Barbecue Restaurants, Inc.
Dickey's Barbecue Restaurants, Inc., the nation's largest barbecue chainwas founded in 1941 by Travis Dickey. Today, all meats are still slow smokedon-site in each restaurant. The Dallas-based family-run barbecuefranchise offers eight signature meats, seven savory sides, tangy barbecuesauce and free kids' meals every Sunday. The fast-casual concept has expandedto nearly 600 locations in 44 states. In 2016, Dickey's won first place on FastCasual's "Top100 Movers and Shakers" list. Dickey's Barbecue Pit has also beenrecognized by Entrepreneur Magazine, Franchise Times, and Nation's RestaurantNews. For more information on Dickey's awards, visit www.dickeys.com
AboutEddy Packing Co.
Eddy PackingCo. is one of the most modern, high quality, innovated and diversified meatprocessing plants in the southwest. With 60+ years processing smoked,cooked and raw pork, beef and poultry products. Available in fresh and frozenfrom plant directly, retailers and distributors.
Thededicated employee base is comprised of over 500 production, sales andmarketing, warehouse, office and quality control staff. We take pride inmeeting and exceeding our customer and shareholders' expectations ininnovation, quality, delivery and cost of processed protein products withflexibility, commitment and the integrity of our people.
###
'