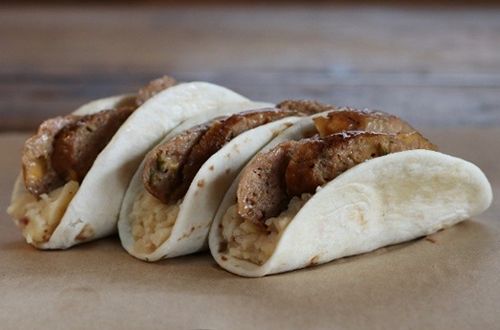 Dickey's Barbecue Pit Offers The Bangers & Mash Taco This December
'
The Bangers & MashTaco is Dickey's newest limited time offer
---
(Dallas, TX)Dickey's Barbecue Pit has created a newdelicious barbecue-inspired taco for their December Taco of the Month. Dickey'swill finish off 2016 by offering their newest take on Texas-style barbecue, theBangers & Mash Taco!
The Bangers& Mash Taco will feature Dickey's slow-smoked jalapeno cheddar kielbasawith their savory baked potato casserole in a warm flour tortilla.
Thepromotion begins December 1 and will last throughout the month. The tacos can beadded on to any order in-store, onlineor as a catering. Guests canorder two tacos for $3 or three tacos with one side and a Big Yellow Cup for$8.50.
"Dickey'sBarbecue Pit has prided itself on serving delicious, Texas-style for the past75 years," says Roland Dickey, Jr., CEO of Dickey's Barbecue Restaurants, Inc."We are proud to create new ways to serve our slow-smoked barbecue to peopleacross the nation."
To find the Dickey's Barbecue Pitnearest you, click here. Find Dickey's on Twitter, Facebook and Instagram.
About Dickey's Barbecue Restaurants, Inc.
Dickey's Barbecue Restaurants, Inc., the nation's largest barbecue chainwas founded in 1941 by Travis Dickey with the goal of authentic slow-smokedbarbecue. Today, all meats are still slow smoked on-site in each restaurantliving up to the company tagline, "We Speak Barbecue." TheDallas-based family-run barbecuefranchise offers a quality selection of signature meats, home style sides,tangy barbecue sauce and free kids' meals every Sunday. The fast-casual concepthas expanded to more than 570 locations in 43 states. This year Dickey's wonfirst place on Fast Casual's "Top100 Movers and Shakers" and ranked in the top ten of Franchise Times' "Fastand Serious." Dickey's Barbecue Pit wasrecognized for the third year by Nation's Restaurant News as a "Top 10 GrowthChain" and by Technomic as the "Fastest-growing restaurant chain in thecountry." For more information, visit www.dickeys.comor for barbecue franchise opportunities call 866.340.6188.
'