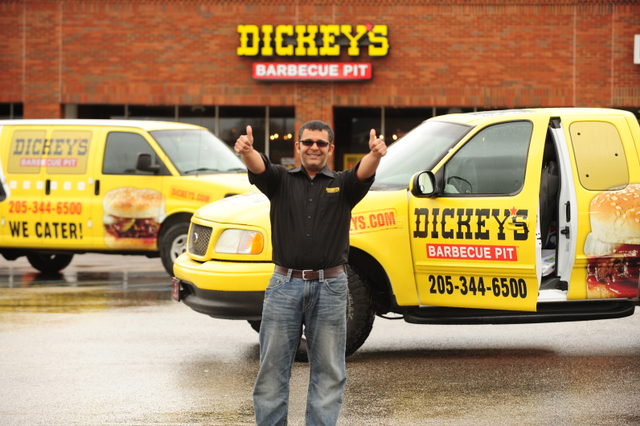 Dickey's Barbecue Pit opens its First Location in Alabama
(Tuscaloosa, AL) It's always exciting when a new Dickey's Barbecue Pit opens, but it is especially rewarding when it's the first location to come to the state! Dickey's Barbecue is opening on Thursday, March 28 in Tuscaloosa, Alabama and giving the first 100 customers a free Pulled Pork Big Barbecue sandwich.
"We're excited to open this first location in Alabama," said Roland Dickey, Jr., president and CEO of Dickey's Barbecue Restaurants, Inc. "Our brand has really grown over the past year and we are planning on entering new markets throughout the country."
This is new location is located at 9750 Hwy 69 South. If you would like to find out more about upcoming events and promotions at the new Tuscaloosa location, call 205.344.6500 or visit this store on Facebook.
"It's an honor to be opening the first Dickey's in Alabama," said owner Raji Pruthi, who owns and operates this location with his wife Deepali Pahuja. "Tuscaloosa is going to fall in love with Dickey's slow smoked barbecue and family friendly environment."
Easter is right around the corner so why not let Dickey's do all the work and you take the credit. Dickey's is offering whole Barbecue Honey Ham and complete meals at every location. To find out more, visit your local Dickey's.