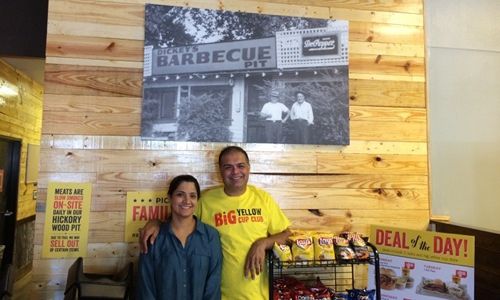 Dickey's Barbecue Pit Original Franchisee Makes Valentine's Day a Family Affair
'
Kids Eat Free atevery Dickey's location this February 14
---
(Dallas, TX) A recent study found that 60 percent ofAmericans that celebrate Valentine's Day include their entire families in thecelebration. Dickey's Barbecue PitOwner/Operator Muhammed Afzal will offer Kids Eat Free this Valentine's Day tohelp those families celebrate with great food at a reasonable price.
Afzal, one of Dickey's original franchisees, is now theproud owner of five Dickey's locations across the north Texas area, acquiringhis fifth location in Plano, TX in 2015. Operating these five locationsover the years, Afzal has learned that family comes first to his guests.
"In my 22 years with Dickey's Barbecue Pit, I have met andworked with a diverse group of Owner/Operators all with different stories andbackgrounds," says Afzal. "The one thing that brings us all together is that wehave a passion for pit-smoked barbecue and serving our guests and theirfamilies."
Dickey's has nearly 600 franchised locations nationwide andconsiders their barbecue business model as family working with family to servefamilies. Still family-owned and operated, Dickey's Barbecue Pit is proudto count their two original franchisees among their growing brand 22 yearsafter Dale Smith and 'Mo' Afzal opened their first locations. Since 1994the Afzal and Smith families have had a healthy family rivalry between the twowhich will continue this Valentine's Day to see who will host the most familiesfor their pit-smoked family meal.
"At Dickey's, we constantly try to evolve to betterourselves while staying true to our barbecue and family roots," says Laura ReaDickey, CEO of Dickey's Barbecue Restaurants, Inc. "This Valentine's Day,Dickey's hopes folks will see barbecue as the best way to their favoritepeoples' hearts."
To learn more about joiningthe Dickey's Barbecue Pit family go to www.dickeys.com/franchise or call866-340-6188.
About Dickey's BarbecueRestaurants, Inc.
Dickey's Barbecue Restaurants, Inc., the nation's largest barbecue chainwas founded in 1941 by Travis Dickey with the goal of authentic,slow-smoked barbecue. All meats are still slow smoked on-site in eachrestaurant which is why at Dickey's, "We Speak Barbecue." The Dallas-basedfamily-run barbecue franchiseoffers a quality selection of signature meats, savory sides, tangy barbecuesauce and free kids' meals every Sunday. The brand has expanded to 600locations in 44 states. In 2016, Dickey's won first place on Fast Casual's "Top100 Movers and Shakers" and ranked in the top ten of Franchise Times' "Fastand Serious." Dickey's Barbecue Pit wasrecognized for the third year by Nation's Restaurant News as a "Top 10 GrowthChain" and by Technomic as the "Fastest-growing restaurant chain in thecountry." For more information, visit www.dickeys.com or for barbecue franchiseopportunities call 866.340.6188.
###
---
'