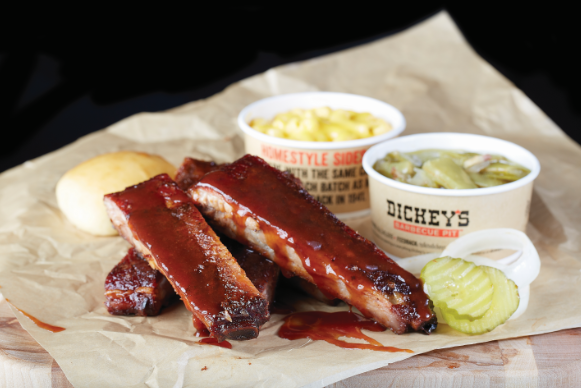 Dickey's Barbecue Pit To Expand With Four New Stores in Southern California
New Dickey's locations are slated to open in Foothill Ranch, Irvine and Mission Viejo
(Foothill Ranch, CA) Dickey's Barbecue Pit continues to grow throughout California, with an increased store count that is second only behind its home state of Texas. The first of four new stores will open in Spring 2017 in Foothill Ranch. Two in Irvine and one in Mission Viejo are to follow. The four new locations are included in a development agreement between Dickey's and new franchisee Scott Cole.
"We congratulate Scott Cole on his four-store development agreement," says Roland Dickey Jr., CEO of Dickey's Barbecue Pit. "We are growing rapidly in California, and we are very proud to continue opening new locations to serve Texas-style barbecue to the people of California."
Scott Cole has called Orange County home his entire life. While spending the beginning of his professional career in business development, he decided it was time to have a business of his own. Born and raised in California, the people, food and culture of the Golden State is nothing new to him so when it came time to start a business he knew that the restaurant industry was the way to go. Cole, along with his wife Susan were eager to start out on a new adventure by opening their own franchise together. After doing extensive research, the Cole's found a home with Dickey's Barbecue. "I researched a variety of brands and chose Dickey's because I just love the food," says Cole. "Now I look forward to becoming a part of the Dickey's family and serving great barbecue to my community."
Among his love for Dickey's authentic slow-smoked Texas barbecue, Cole saw that there was a void in the market for a fast casual barbecue restaurant. "In Texas, there is a barbecue place on every corner, and we just don't have that here," says Cole.
To learn more about franchising with Dickey's, visit www.dickeys.com/franchsie or call 866-340-6188.
To find the Dickey's Barbecue Pit nearest you, click here. Find Dickey's on Twitter, Facebook and Instagram.
About Dickey's Barbecue Restaurants, Inc.
Dickey's Barbecue Restaurants, Inc., the nation's largest barbecue chain was founded in 1941 by Travis Dickey with the goal of authentic slow-smoked barbecue. Today, all meats are still slow smoked on-site in each restaurant living up to the company tagline, "We Speak Barbecue." The Dallas-based family-run barbecue franchise offers a quality selection of signature meats, home style sides, tangy barbecue sauce and free kids' meals every Sunday. The fast-casual concept has expanded to more than 560 locations in 43 states. This year Dickey's won first place on Fast Casual's "Top 100 Movers and Shakers" and ranked in the top ten of Franchise Times' "Fast and Serious." Dickey's Barbecue Pit was recognized for the third year by Nation's Restaurant News as a "Top 10 Growth Chain" and by Technomic as the "Fastest-growing restaurant chain in the country." For more information, visit www.dickeys.com or for barbecue franchise opportunities call 866.340.6188.
###