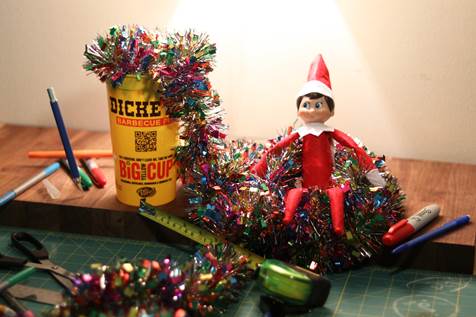 Dickey's Barbecue Pit's Big Yellow Cup Holiday Social Media Contest
'
With three weeks of competition, 4 winners willbe chosen to win delicious prizes
---
(Dallas, TX) Dickey's Barbecue Pitis celebrating the holidays with a Big Yellow Cup social media contest! For thefirst three weeks of the month of December Dickey's guests will have theopportunity to win a $25 gift card or Pit Master Pack, and one lucky guest willwin a Holiday Feast with Dickey's newest addition, prime rib.
Find Dickey's on Twitter, Facebook and Instagram.
For three weeks in December beginning December 5, there will be adifferent weekly challenge on social media. These challenges are:
Week 1: December 5-9: Createa holiday decoration with your Big Yellow Cup!
Week 2: December 12-16: Elfwith a Big Yellow Cup! Show what exciting adventures your elf and Big YellowCup can go on.
Week 3: December 19-23: Showyour Big Yellow Cup enjoying family time this holiday season!
To enter, follow the challenge of the week and post it to any socialmedia site with the hashtag #BigYellowCup.To win one of the three $25 gift cards or Pit Master Pack, share Dickey'sFacebook Big Yellow Cup holiday post. The grand prize winner will be chosen atthe end of the three weeks, and will be chosen by who posted the most creativeand festive Big Yellow Cup post!
To find the Dickey's Barbecue Pitnearest you, click here.
About Dickey's Barbecue Restaurants, Inc.
Dickey's Barbecue Restaurants, Inc., the nation's largest barbecue chainwas founded in 1941 by Travis Dickey with the goal of authenticslow-smoked barbecue. Today, all meats are still slow smoked on-site in eachrestaurant living up to the company tagline, "We Speak Barbecue." TheDallas-based family-run barbecuefranchise offers a quality selection of signature meats, home style sides,tangy barbecue sauce and free kids' meals every Sunday. The fast-casual concepthas expanded to more than 570 locations in 43 states. This year Dickey's wonfirst place on Fast Casual's "Top100 Movers and Shakers" and ranked in the top ten of Franchise Times' "Fastand Serious." Dickey's Barbecue Pit wasrecognized for the third year by Nation's Restaurant News as a "Top 10 GrowthChain" and by Technomic as the "Fastest-growing restaurant chain in thecountry." For more information, visit www.dickeys.comor for barbecue franchise opportunities call 866.340.6188.
###
'