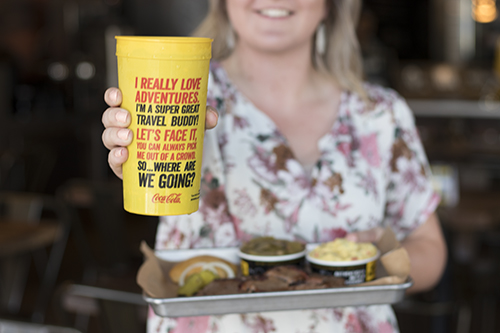 Celebrate National Barbecue Day with Dickey's Barbecue Pit
'
(DALLAS)– Tomorrow is Dickey's Barbecue Pit's favoriteholiday: National Barbecue Day. In honor of the holiday, all Dickey's BarbecuePit locations across the country will offer every guest a signature Big YellowCup for free, no purchase necessary while supplies last.
"National Barbecue Day means showcasing the hickory-pitsinside every Dickey's barbecue across the country that smoke low and slow everyday," said Laura Rea Dickey, CEO of Dickey's Barbecue Restaurants, Inc. "Givingaway a Big Yellow Cup to everyone that comes into Dickey's Barbecue tomorrow,May 16, is our way of celebrating this special day with our guests across thecountry."
Dickey's Barbecue Pit is the nation's largest barbecuechain, with nearly 600 locations in 44 states. In addition to this Big YellowCup special, Dickey's is offering delicious prizes and big giveaways throughoutMay, National Barbecue Month, on its Facebook page. Luckyparticipants could win Free Barbecue for a Year, Dickey's Pit Master Packs, andan all-expense paid trip to the Windy City Smokeout in Chicago.
To find the Dickey's Barbecue Pit nearest you, click here.Find Dickey's Barbecue Pit on Facebook,Instagram and Twitter.
'