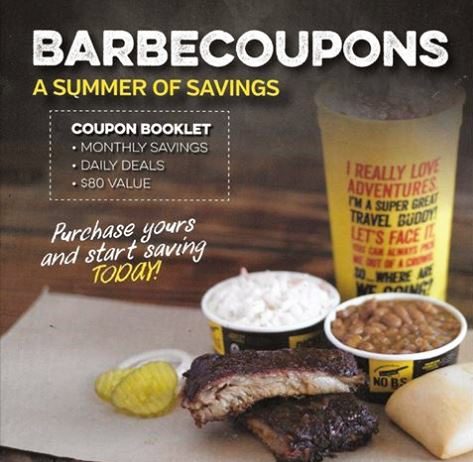 Dickey's Barbecue Pit Announces Summer Savings with Barbecoupons
'
(Dallas, TX)– Dickey's Barbecue Pit is kicking offNational Barbecue Month with the announcement of the new Barbecoupon booklet.The first-ever Barbecoupon booklets are available for purchase now at everylocation, giving guests exclusive access to free barbecue, free beverages anddiscount offers every month throughout the summer. Free items included in thiscelebration of a slow-smoked summer of savings include:
Free Pulled Pork Sandwich
Free Kid's Meal
Free Pulled Pork Slider
Free Pulled Pork Taco
Free Big Yellow Cup
The Barbecoupon offers additional value to guests withoffers to enjoy pit-smoked barbecue for over 100 days such as:
Free Small Side with Classic or Westerner Sandwich Purchase
Buy One Get One Meat Plate Free
Free Dessert with $5 purchase
Free Classic Sandwich with Big Yellow Cup & Sidepurchase
Free Half Rack of Ribs with Family Pack Purchase
$3 off $10 or more
Free Savory Side with $5 purchase
Turn your One Meat Plate into Two Meats for FREE
Free Pound of Pulled Pork with XL Family Pack purchase
BOGO Barbecue Sandwich
10% off Catering
"The Barbecoupon booklet is a fun way for guests to enjoyTexas-style barbecue throughout the summer months – the true barbecue season,"said Emily Bennett, Vice President of Regional Marketing of Dickey's BarbecueRestaurants, Inc. "We are offering the opportunity to try our slow-smoked meatsin the variety of ways we serve them at each locally-owned store, so guests canget a glimpse of the passion we have for our award-winning taste and authenticprocess."
Priced at $10 and worth over an $80 value to the consumer,Barbecoupon booklets will be available for purchase in every Dickey's BarbecuePit. To find the store nearest you, click here. FindDickey's on Twitter, Facebook and Instagram.
'