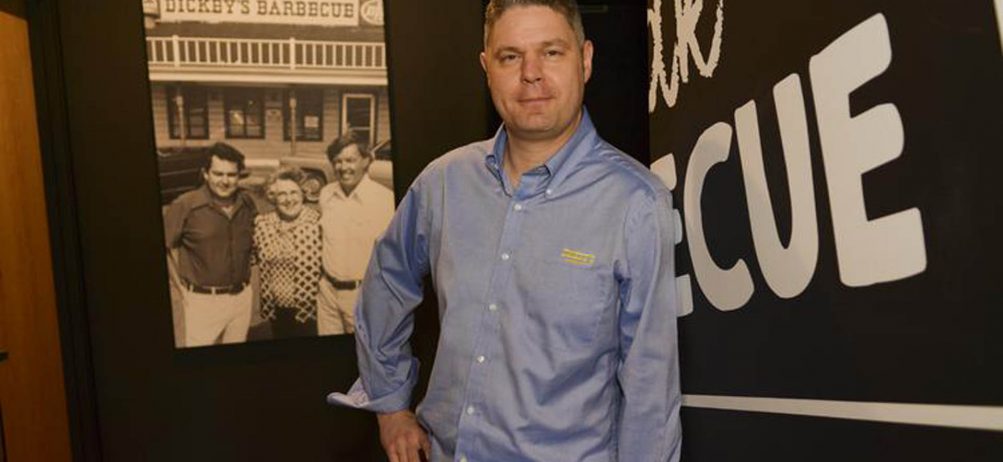 EY Recognizes Dickey's Barbecue Restaurants, Inc. CEO Roland Dickey Jr. as Entrepreneur Of The Year® 2015 Award Winner in the Southwest Region
Award Recognizes Entrepreneurial Excellence in the Family Business Category
(Dallas, Texas) EY announced Roland Dickey Jr., CEO of Dickey's Barbecue Restaurants, Inc., as a recipient of the EY Entrepreneur Of The Year® Award in the Southwest region. The group of leading entrepreneurs, recognized for taking the road less traveled to launch new companies, open new markets and fuel job growth, was selected by an independent judging panel made up of previous award recipients, leading CEOs and other regional business leaders. The award recipients were recognized during EY's annual black-tie gala on Saturday, June 27 at the Hilton Anatole in Dallas.
"I am honored to receive this prestigious recognition and wouldn't be here without the support of my talented team and family – it's truly a collaborative effort," said CEO Roland Dickey Jr. "We pride ourselves on authenticity, innovation and an entrepreneurial spirit and this a testament to the brand we have built as we blaze new trails by bringing Texas-style barbecue across the country."
Since becoming President and CEO of the third generation family-run company in 2006, Dickey has elevated the business to new heights by expanding its reach from 20 to over 500 stores nationwide, making it the largest barbecue chain in the country. He resides in Dallas where the company's corporate headquarters is located.
Dickey is forging a path as an industry leader. He has been honored as one of the "Power 20" in the restaurant industry by Restaurant Business Magazine. In addition, Technomic has named the company the "Fastest Growing Restaurant Chain in the Country," QSR "Best Franchise Deal" and "Top 10 Growth Chain" by Nation's Restaurant News following explosive growth in franchising.
"These entrepreneurs are inspiring leaders demonstrating the dedication and vision it takes to achieve tremendous success," said Debra L. von Storch, EY Strategic Growth Markets Partner. "EY is proud to recognize these entrepreneurs and all of their tremendous contributions."
As an EY Entrepreneur Of The Year® regional award winner, Dickey Jr. is now eligible for consideration for EY Entrepreneur Of The Year® National Award, which will take place at the annual awards gala in Palm Springs, California on November 14, 2015.
About Dickey's Barbecue Restaurants, Inc.
Dickey's Barbecue Restaurants, Inc., the nation's largest barbecue chain, was founded in 1941 by Travis Dickey with the goal of authentic slow smoked barbecue. Today, the fast-casual concept has over 500 locations in 43 states and still slow-smokes all meats onsite in each restaurant living up to the company tagline, "We Speak Barbecue." The Dallas-based family-run barbecue franchise offers a quality selection of signature meats, home style sides, tangy barbecue sauce and free kids' meals every Sunday. Dickey's Barbecue was recognized for the third year by Nation's Restaurant News as a "Top 10 Growth Chain" and by Technomic as the "Fastest-growing restaurant chain in the country." For more information, visit www.dickeys.com or for barbecue franchise opportunities call 866.340.6188.
About EY Entrepreneur of The Year®
EY Entrepreneur Of The Year® is the world's most prestigious business award for entrepreneurs. The unique award makes a difference through the way it encourages entrepreneurial activity among those with potential and recognizes the contribution of people who inspire others with their vision, leadership and achievement. As the first and only truly global award of its kind, Entrepreneur Of The Year® celebrates those who are building and leading successful, growing and dynamic businesses, recognizing them through regional, national and global awards programs in more than 145 cities in more than 60 countries.
###