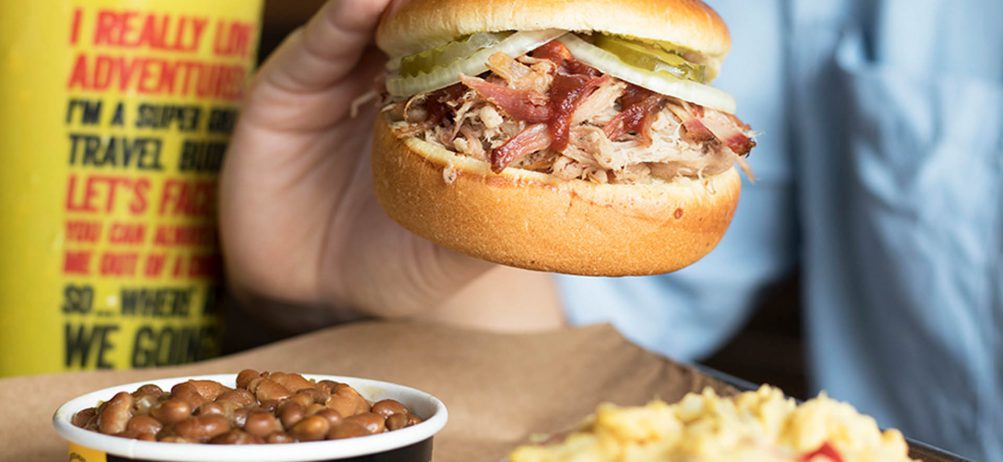 Local Father-Son Duo Bring Dickey's Barbecue Pit to Muskegon
(Muskegon, MI) Local businessmen Dan and Luke McKinnon plan to bring two Dickey's Barbecue Pit locations to their hometown of Muskegon in 2018. The first location is slated to open in May with the second following in late 2018.
Dan McKinnon has been in business for himself for over 25 years, owning local businesses GH Imaging and Printing, Glo Sun and Shades and Village Manor of Ludington. Dickey's Barbecue Pit will be the McKinnon's first restaurant venture.
"Dickey's Barbecue Pit has been and always will be a family-run, family-oriented business and that is something we pride ourselves on," says Laura Rea Dickey, CEO of Dickey's Barbecue Restaurants, Inc. "Having a family of experienced entrepreneurs eager to break into the restaurant industry is an exciting and rewarding thing and we look forward to the success Dan and Luke will have with Dickey's."
Dan and Luke will be opening both Dickey's locations together with Luke handling the day-to-day operations of the stores. They both have a passion for slow-smoked barbecue and enjoy partnering on new businesses that bring joy to the community they consider family.
"The restaurant industry is one that we have yet to break into and Dickey's Barbecue Pit has made the journey quite exciting for us," says Dan. "We love the food, the look and the concept and look forward to opening our doors for all of the residents of our hometown."
To learn more about franchising with Dickey's, visit Dickey's franchising page or call 866-340-6188.
About Dickey's Barbecue Restaurants, Inc.
Dickey's Barbecue Restaurants, Inc., the nation's largest barbecue chain, was founded in 1941 by Travis Dickey. Today, all meats are still slow smoked on-site in each restaurant. The Dallas-based family-run barbecue franchise offers several slow-smoked meats and home style sides with 'No B.S. (Bad Stuff)' included. The fast-casual concept has expanded to more than 550 locations in 44 states. In 2016, Dickey's won first place on Fast Casual's "Top 100 Movers and Shakers" list and in 2017 again won a top 10 on the list. Dickey's Barbecue Pit has also been recognized by Entrepreneur Magazine, Franchise Times, and Nation's Restaurant News. For more information, visit www.dickeys.com.
###