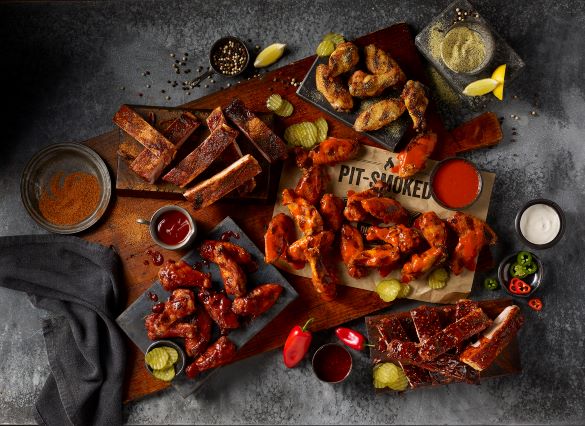 Pennsylvania Bar Owners to Transform Space into Dickey's Barbecue Pit
MT MORRIS, PA (August 17, 2020) – Pennsylvania Army National Guard Veterans and husband and wife duo Joe and Cynthia Yorio, plan to convert their Mount Morris, PA pub to a Dickey's Barbecue Pit and serve authentic, Texas-style barbecue while keeping wine, beer and spirits on the menu.
In the 1970's, Joe and Cynthia moved to the Mount Morris community where they still reside and raised their two children, Aaron and Ashley. The pair opened their Pittsburgh Steelers themed O'Reilly's Pub in 1992 and are looking to expand and enhance their menu offerings with their latest Dickey's investment.
"We love our town and getting to know everyone in the community and look forward to giving our neighbors an updated family-friendly space to hang out and watch sports, while eating delicious, competition-style barbecue," said Cynthia Yorio, Owner Operator of O'Reilly's Pub located on 229 Mt. Morris Road.
"Dickey's believes great barbecue and good time gatherings go hand in hand and we're excited Cynthia Yorio and her husband are combining Dickey's slow-smoked meats and southern favorites with their beloved drink offerings to serve to the Mount Morris community," said Laura Rea Dickey, CEO of Dickey's Barbecue Restaurants, Inc.
The Dickey's Barbecue Pit coming soon to 229 Mt. Morris Road will feature recipes passed down by generations including a variety of slow-smoked meats and savory sides that can be enjoyed in-store, at home or at the next big event.
Learn more about franchising with Dickey's Barbecue Pit by visiting franchise.dickeys.com or call (866) 340-6188. To find your nearest Dickey's Barbecue Pit location, visit dickeys.com/locations.
Follow Dickey's on Facebook, Instagram and Twitter.
Download the Dickey's App from the Apple App Store or Google Play.
About Dickey's Barbecue Restaurants, Inc. 
Dickey's Barbecue Restaurants, Inc., the world's largest barbecue concept, was founded in 1941 by Travis Dickey. For the past 79 years, Dickey's Barbecue Pit has served millions of guests Legit. Texas. Barbecue.™ At Dickey's, all our barbecued meats are smoked on-site in a hickory wood burning pit. Dickey's proudly believes there's no shortcut to true barbecue and it's why they never say bbq. The Dallas-based family-run barbecue franchise offers several slow-smoked meats and wholesome sides with 'No B.S. (Bad Stuff)' included. The fast-casual concept has expanded worldwide with two international locations in the UAE and operates over 500 locations in 44 states. In 2016, Dickey's won first place on Fast Casual's "Top 100 Movers and Shakers" list and was named a Top 500 Franchise by Entrepreneur in 2018. Dickey's Barbecue Pit has also been recognized by Fox News, Franchise Times, The Wall Street Journal, QSR Magazine, Forbes Magazine and Nation's Restaurant News. For more information, visit www.dickeys.com.