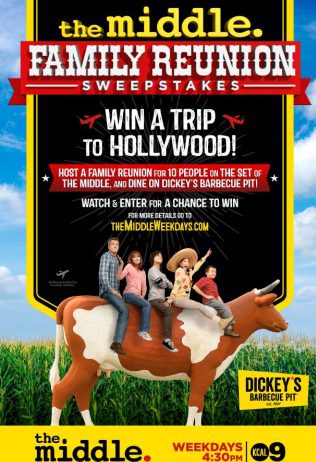 Win a Hollywood Family Reunion for Up to 10 People from Dickey's Barbecue Pit
'
Enterto win by watching for the "Heck of the Day" during thesyndicated sitcom, "The Middle"
---
(Dallas,TX) Dickey'sBarbecue Pit is helping familiescome together nationwide, and start the new year with some humor byuniting with Warner Bros. Television's popular comedy,THE MIDDLE, airing five times a week in syndication, by offering viewersand consumers $500 cash and a free trip to Hollywood by entering the "Dickey'sBarbecue Pit Family Reunion Sweepstakes." The lucky winner willreceive a family reunion trip to Hollywood for up to 10 people, where they willenjoy delicious barbecue from Dickey's Barbecue Pit and visit the set of TheMiddle. Winners will also receive $500 cash and a variety of free familymeals from Dickey's Barbecue Pit.
To enter,tune in to "The Middle," airing in syndication Monday through Friday, nowthrough February 3 and watch for the "Heck of the Day" and text it to34490 or enter at themiddleweeknights.com. No purchase orpayment is necessary to enter or win a prize. Applicants must be 21 years ofage or older. The deadline to enter is 11:59 p.m. on Friday, February 3. Localprogramming and additional contest rules are available here. 150 runner ups will also receive aDickey's Barbecue Pit "Family Pack," the perfect optionfor family get-togethers.
"Dickey'sBarbecue Pit is proud to serve busy families nationwide, and we are excited tooffer this sweepstakes for a fun family getaway," says Emily Bennett, VicePresident of Marketing at Dickey's. "We appreciate collaborating with WarnerBros. Television and look forward to more partnerships in the future."
To find theDickey's Barbecue Pit nearest you, click here. Go to TheMiddleWeeknights.com to see when it's on in your hometown.
AboutDickey's Barbecue Restaurants, Inc.
Dickey's Barbecue Restaurants, Inc., the nation's largest barbecue chainwas founded in 1941 by Travis Dickey with the goal of authenticslow-smoked barbecue. With locally owned and operated franchises nationwide,all meats are still slow smoked on-site in each restaurant. The Dallas-basedfamily-run barbecue franchise offersa quality selection of signature meats, savory sides, tangy barbecue sauce andfree kids' meals every Sunday. The fast-casual concept has expanded to 600locations in 44 states. In 2016, Dickey's won first place on Fast Casual's "Top 100 Movers and Shakers" and ranked in thetop ten of Franchise Times' "Fast and Serious."For more information, visit www.dickeys.com orfor barbecue franchise opportunities call 866.340.6188.
AboutThe Middle
Emmy® winner Patricia Heaton stars in The Middle, a warmand witty single-camera comedy about raising a family and lowering yourexpectations. Middle-aged, middle class and living in the middle of the country,Frankie Heck (Heaton) is a harried wife and working mother of three who usesher wry wit and sense of humor to try to get her family through each dayintact. Her unflappable husband, Mike (Neil Flynn), is a manager at the localquarry and her sardonic partner in the daily grind that is raising theiraverage – yes, most definitely average – family. The show also stars CharlieMcDermott, Eden Sher, and Atticus Shaffer.
TheMiddle is a half-hour comedy series filmed at Warner Bros. Studios inHollywood, California. The show was created by Eileen Heisler and DeAnn Heline.It is produced by Blackie and Blondie Productions in association with WarnerBros. Television.
###