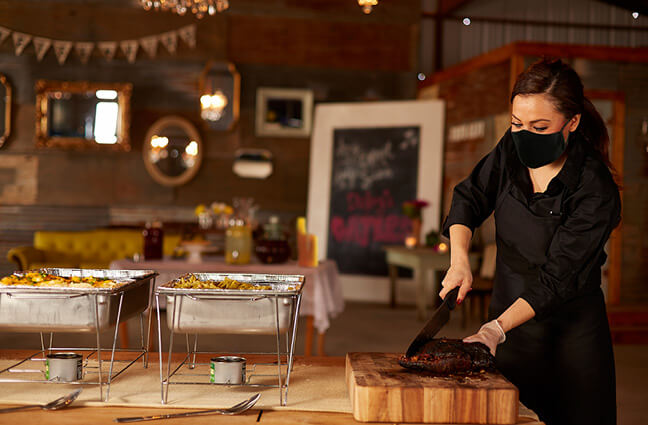 Understanding The Differences Between A Franchise vs. An Independent Restaurant
Opening a restaurant is an exciting opportunity that can be appealing for a variety of reasons. When you are a business owner, you tend to have more autonomy, you are accountable for your success, you have the ability to make the changes you want and you can work toward the results you crave. However, that's a lot of pressure to put on one person's shoulders.
If you are looking to get into the restaurant industry, you may be faced with the decision of choosing a franchise vs. an independent restaurant. Each business model has its pros and cons, and it's important that you understand the difference between a franchise and an independent business before you get started on your endeavor.
What Is the Difference Between a Franchise and an Independent Restaurant?
An independent restaurant is a locally owned business that operates on a small scale, perhaps having one, two or even three locations in a given region. A franchise restaurant is a locally owned entity that is part of a larger, nationally or regionally recognized brand. Owners of both types of restaurants have autonomy, but there are major differences when it comes to the initial investment, the risks involved and the long-term success rate.
These are some differences that you should consider as you decide whether to go franchise vs. independent:
Independent restaurants require significant financial investments. Not only are you required to front the start-up costs, but you are also going to have to create your own marketing plan, build your brand, establish customer loyalty and hope for long-term success. You will likely need to invest a steady amount of money, time and resources into your independent restaurant for years before you begin to see the pay-off.Franchise restaurants, on the other hand, allow you to make an initial financial investment while having the backing of an established and recognized brand. You will also have a built-in business model to refer to and dedicated, ongoing support from the corporate headquarters.
There are arguably more risks involved with opening an independent restaurant. You will be testing a brand-new business model, attempting to attract customers to your location and hoping that you will earn enough revenue to offset your investment.With a franchise, you receive the training and support that you need to be successful, and you can rely on the fact that your franchise brand is already recognized within your community. You open your business with an established customer base.
Independent restaurants do not have the same long-term success rates as franchise restaurants. Many independent restaurants go out of business within the first several years because there are many factors that play a role in their ability to thrive.Franchise restaurants have the backing of a corporation, and franchisees often have the critical support that they need in order to manage their business effectively.
Is it Better to Open Your Own Restaurant or Franchise?
There is no clear answer as to whether it is better to open your own restaurant or franchise. Ultimately, it comes down to your personal goals as an entrepreneur, your financial abilities and the resources that you have available to you. To make the decision, you may want to consider the differences between franchise restaurant responsibilities and independent restaurant responsibilities.
If you opt to franchise, you will find that you have many responsibilities as a new restaurant owner. You are going to be managing the day-to-day tasks at your business, helping your team get the restaurant up and running, and studying the business model that has been provided to you. While your days will likely be busy, satisfying and productive, they will probably not be as overwhelming as those of an independent restaurant owner.
An independent restaurant owner is responsible for every aspect of her or his business, and you often do not have a guidebook to help you. An independent restaurant owner must create a business plan, develop a marketing strategy and build brand recognition from the ground up. In addition, independent owners must also work closely with their local municipality to make sure that everything is up to code and that all rules and regulations are being followed. Not to mention, they are simultaneously responsible for hiring and training a staff to help them launch their establishments.
What Are the Advantages of Owning a Franchise vs. Independent Eatery?
There are many advantages to consider when it comes to owning a franchise vs. independent restaurant. These include:
Having access to a proven business model that should set you up for success.
Establishing a business that is already a recognized brand within your community.
Investing in a business with comparatively low start-up costs and a proven track record of success.
Having the ability to easily sell your franchise to another investor should you choose to go a different route.
 What Are the Disadvantages of Owning a Franchise vs. Independent Restaurant?
While there are many perks to investing in a franchise, it's important to acknowledge that there are some disadvantages. These include:
Having less creative control over your business. When you invest in a franchise, you will be required to use the consistent branding and marketing materials that are provided to you.
Potentially being impacted by corporate brand issues. If there is a public relations crisis with the brand at large, your franchise could suffer temporarily.
Meeting the financial requirements to invest in a franchise. This could require having a specific amount of liquid assets or a net worth that meets a certain threshold.
Why Is a Franchise Better Than an Independent Business? The Benefit of Investing in the Dickey's Barbecue Pit Franchise
If you are an entrepreneur looking to run a restaurant while assuming fewer risks, then a franchise may be the best choice for you. You can enjoy all the benefits of owning your business without the stress and responsibility of being completely on your own.
While there are lots of franchise opportunities available, the Dickey's Barbecue Pit Franchise is perhaps the most appealing opportunity at the moment. These are just some of the benefits that you can enjoy if you invest in a Dickey's Barbecue Pit Franchise:
At Dickey's Barbecue Pit Franchise, we offer eight revenue streams, including online ordering, contact-less delivery, dine-in, catering, retail items and more.
You can choose between a traditional brick-and-mortar location or nontraditional storefronts, such as food trucks, ghost kitchens, and those located within airports, convenience stores or gas stations.
We offer franchise owners protected territories, which means that there is less competition within your region. This helps set you up for long-term success.
We give you the opportunity to attend Barbecue University, a three-week immersive program that can provide the education you need to successfully run your franchise.
You have access to effective, targeted marketing campaigns.
You have access to in-house support, innovative IT solutions and streamlined processes that can help your business run smoothly from the moment it gets off the ground.
For more information about choosing a franchise vs. independent restaurant and to learn about the opportunities available to you with the Dickey's Barbecue Pit Franchise brand, request more information today.