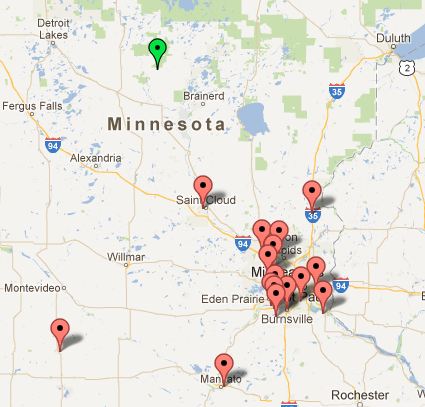 Dickey's Barbecue Celebrates Minnesota Growth
'(Minneapolis, MN)  Dickey's Barbecue Pit is celebrating its explosive growth in Minnesota by hosting special events across the state. Currently, Minnesota is the fastest growing market for theworld's largest barbecue chain, with 15 stores open and two more set to open this year.
"We've been elated with the interest in our brand across Minnesota," said Roland Dickey, Jr., president of Dickey's Barbecue Restaurants, Inc. "We offer a unique concept and passion for great tasting barbecue and potential owners know that is just what Minnesota needs — once we opened a store in Minnesota, there was no stopping us!"
On Thursday, October 11 Dickey's Barbecue in North Branch will celebrate its grand opening with VIP and Chairman Roland Dickeys, Sr. in attendance, to give the first 100 customers signed copies of his new cookbook "Mr. Dickey's Barbecue Cookbook." Customers will also enjoy $1 Pulled Pork Big Barbecue sandwiches from 11 a.m. to 1 p.m. Dickey's Barbecue in North Branch is located North West of Interstate I-35 and Highway 95. 
Also on Thursday, all Dickey's locations in the Twin Cities area are celebrating the continued success of the brand by also offering $1 Pulled Pork Big Barbecue sandwiches from 11 a.m. to 1 p.m. For specific store information go to www.dickeys.com
"Minnesota has embraced the Dickey's brand and is addicted to our authentic slow smoked meats and home-style sides," said Minnesota multi-unit owner Tom Eggerud. "I'm excited to celebrate with our loyal customers in Minnesota."
On Friday, October 12, Dickey's Barbecue in Savage, MN and Menomonie, WI will be continuing the celebrations with two grand openings. Both locations will serve $1 Pulled Pork Big Barbecue sandwiches from 11 a.m. to 1 p.m.