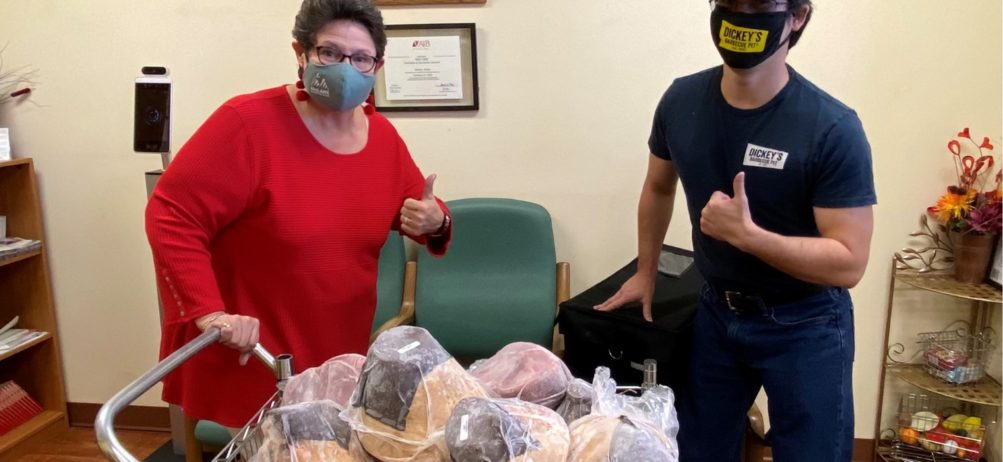 Dickey's Barbecue Pit Owner Operator Builds Following For New Corpus Christi, TX Location
(Victoria, TX) – Dickey's Owner Operator Kevin Ferrall is giving full thanks to his Crossroads community for their ongoing support throughout the pandemic by offering free barbecue to his local first responders, Veterans and teachers.
The restaurant owner who celebrated his one-year anniversary with the barbecue brand in September conducts monthly food drops to his local police and fire stations with his most recent acts of kindness including free holiday meals to his local food bank and free classic sandwiches to community healthcare workers.
The Southeast Texas location also gave away free Pulled Pork Classic Sandwiches to Veterans and teachers of the Victoria, TX community for the entire month of October as a show of thanks for their tireless efforts.
"We wanted to make sure they know how important they are to this community and will always be taken care of here at Dickey's Barbecue Pit," said Kevin Ferrall Owner Operator of the Dickey's Barbecue Pit in Victoria, TX.
In addition, Kevin's mission to doing both well and good in his community has positioned him to open a second location in the Texas port town of Corpus Christi next year in 2022 or 2023.
"Kevin Ferrall is a pillar in his community and his outreach is one of several reasons why he's had such great success despite the challenges we've faced as industry," said Laura Rea Dickey, CEO of Dickey's Barbecue Restaurants, Inc. "He hit the ground running and his efforts have paid off. We sincerely thank him for his commitment to doing both well and good in the community."
To learn more about Kevin's story with the Dickey's franchise, watch this short testimonial video.
Learn more about franchising with Dickey's Barbecue Pit by visiting franchise.dickeys.com or call (866) 340-6188. To find your nearest Dickey's Barbecue Pit location, visit dickeys.com/locations.
To learn more, follow Dickey's on Facebook, Instagram and Twitter. Download the Dickey's Barbecue Pit app from the Apple App Store or Google Play.
About Dickey's Barbecue Restaurants, Inc.
Dickey's Barbecue Restaurants, Inc., the world's largest barbecue concept, was founded in 1941 by Travis Dickey. For the past 79 years, Dickey's Barbecue Pit has served millions of guests Legit. Texas. Barbecue.™ At Dickey's, all our barbecued meats are smoked on-site in a hickory wood burning pit. Dickey's proudly believes there's no shortcut to true barbecue and it's why they never say bbq. The Dallas-based family-run barbecue franchise offers several slow-smoked meats and wholesome sides with 'No B.S. (Bad Stuff)' included. The fast-casual concept has expanded worldwide with two international locations in the UAE and operates over 500 locations in 44 states. In 2016, Dickey's won first place on Fast Casual's "Top 100 Movers and Shakers" list and was named a Top 500 Franchise by Entrepreneur in 2018. Dickey's Barbecue Pit has also been recognized by Fox News, Franchise Times, The Wall Street Journal, QSR Magazine, Forbes Magazine and Nation's Restaurant News. For more information, visit www.dickeys.com.
###