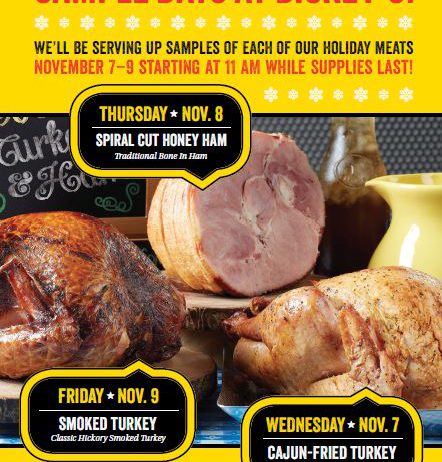 Vote For Your Favorite Protein On National Sample Days At Dickey's
'(Dallas, TX) Dickey's Barbecue is holding a three day national sample event at all participating stores nationwide. Customers can try a new pit smoked meateach day and if they place an order for a holiday meat or meal by November 9, they will automatically receive a coupon for a free pound of any meat.
"We're hoping our holiday protein options will make creating holiday meals seamless," said Roland Dickey, Jr., president of Dickey's Barbecue Restaurants, Inc. "Our Cajun Fried Turkey has always been a top seller and our Spiral Cut Ham and Smoked Turkey are great choices to compliment any holiday meal."
On Wednesday, November 7, Dickey's will be handing out samples of Cajun Fried Turkey, on Thursday, November 8, customers can try the savory Spiral Cut Ham and on Friday, November 9, Dickey's will offer traditional Smoked Turkey samples all day.
"We have so many new stores across the country and we can't wait to introduce these new customers to our Dickey's great holiday turkeys and hams," said Joette Young, Director of Marketing and Sales at Dickey's Barbecue Restaurants, Inc. "Sampling Days are a chance for customers to fall in love with our holiday offerings."
Samples of Dickey's Holiday Proteins will be available starting at 11:00 a.m. and will be available while supplies last at all particpating Dickey's locations. Dickey's is also offering the opportunity to place holiday meal orders early and get a free pound of meat. If customers order by November 9, they can take advantage of the offer.