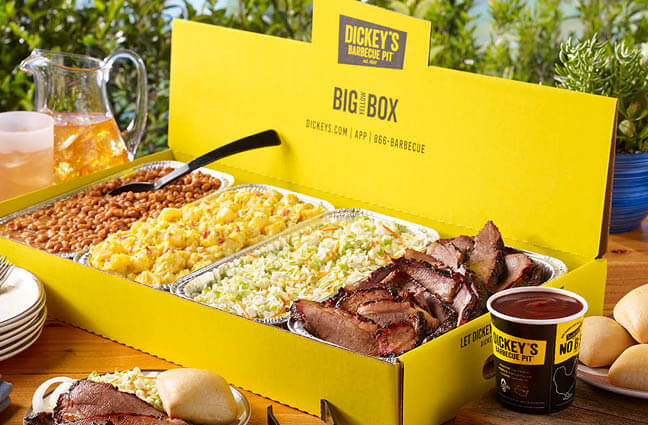 At Dickey's, Celebrating Pit-Smoked Barbecue is an All-Year Affair
At Dickey's, Celebrating Pit-Smoked Barbecue is an All-Year Affair
The wait is finally over… the best month of the year is here. It's National Barbecue Month! With temperatures rising and the arrival of holidays like National Brisket Day and Memorial Day, May is a special month full of so many sauceabilities for barbecue festivities. But even though May is National Barbecue Month, at Dickey's Barbecue Pit, celebrating slow-smoked, Texas-style barbecue doesn't end on May 31. It lasts all year long!
"At Dickey's, we love National Barbecue Month, but we don't think one month is enough," said Laura Rea Dickey, CEO of Dickey's Barbecue Restaurants, Inc. "For the past 80 years, Dickey's has been a big believer that barbecue is about more than just the food – it's about bringing people together. That's why we think barbecue deserves to be celebrated every single day of the year!"
Here are three reasons why Dickey's Barbecue Pit Franchise treats every month like it's National Barbecue Month:
Barbecue is perfect for every occasion.
Barbecue has long been a staple for friends and family to enjoy during special moments like birthdays, graduation and holidays. Whether guests want to have a summer barbecue in their backyard, or they want to celebrate with Dickey's delicious, pit-smoked meats and Southern sides while dining in their local restaurant, the world's largest barbecue restaurant franchise has fans covered. Groups can savor Dickey's slow-smoked Legit. Texas. Barbecue.™ at occasions of any size 363 days of the year via delivery, catering, to-go and dine-in orders.
The demand for barbecue remains strong.
People have and always will love barbecue. In 2020, 54% of consumers said they would visit fast-casual barbecue restaurants the same amount they did before, and 22% said they would visit them more frequently. And, even as consumers' dietary and lifestyle preferences shift, barbecue stays top-of-mind for guests. Those following diets like Keto are leaning toward grilled, fire and roasted cooking methods, says Dickey's Barbecue Pit Research and Development Chef Phil Butler. With this trend, hickory-smoked, antibiotic-free chicken breasts and hickory-smoked turkey sandwiches have been hot items at the BBQ brand.
Dickey's is the world's largest barbecue concept.
With over 550 franchises across the globe and 80 years of operation under its belt, the family-owned franchise smokes the competition in its segment and continues to be the go-to dining destination for mouthwatering barbecue. This year, as guests are starting to make in-restaurant dining a part of their daily routine once again, the National Restaurant Association predicts overall restaurant sales to jump to 10.2%. Dickey's has so much to look forward to during this National Barbecue Month and the remainder of 2021!
To learn more about franchise opportunities with Dickey's, visit franchise.dickeys.com.