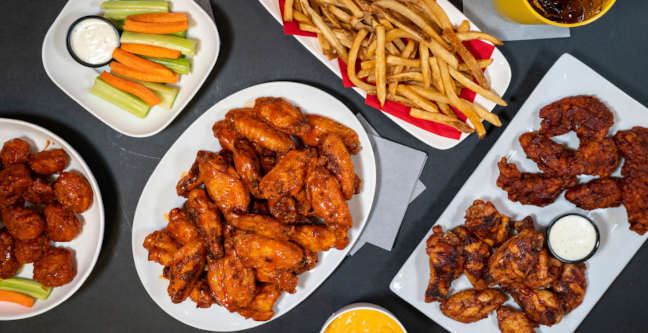 Dickey's New Virtual Brand Adds A New Revenue Stream for Franchisees
For the past 80 years, Dickey's Barbecue Pit has remained top-of-mind for guests because it lives by the mantra, evolve or fail. As the local BBQ brand grew into the world's largest barbecue restaurant franchise, Dickey's has remained nimble and strategic in adapting its business to cater to the current consumer climate.
As consumer trends have shifted over the course of eight decades, Dickey's has always been quick to capitalize on opportunities to create new avenues to set its franchise Owner/Operators up for success. That's why the Texas-style barbecue brand launched its newest revenue stream for franchisees – a virtual, delivery-only concept known as Wing Boss.
Here are three reasons why Dickey's virtual brand – Wing Boss – is an ideal revenue opportunity for franchisees:
The virtual concept leverages the tremendous growth of third-party delivery.
Wing Boss is available to order on three third-party delivery apps – UberEATS, GrubHub and DoorDash. Due to the pandemic, consumers have become more comfortable with ordering from third-party delivery apps with 31% saying they even use them at least twice a week. On top of that, once a week, 60% of consumers order takeout or food delivery. Food delivery is here to stay, and Dickey's Owner/Operators can take advantage of this by offering Wing Boss on third-party platforms.
Franchisees already have the right kitchen equipment to execute it.
It's no secret that Dickey's knows a thing or two about slow-smoking meats, so it only makes sense that the brand created Wing Boss featuring hickory-smoked chicken. There's no new equipment necessary to cook Wing Boss's items, meaning Pit Masters can implement the virtual brand at a minimal cost. The virtual brand also serves sides including coleslaw, mac n' cheese, celery and carrot sticks, and fries with choice of Cajun or Dickey's signature seasoning or spicy cheese sauce. The wings are available in a wide variety of dry rubs and saucabilities and come with a choice of ranch, blue cheese, honey mustard or jalapeño cheese sauce.
Wing Boss has already yielded an increase in revenue.
Wing Boss first launched at the original Dickey's location in Dallas, Texas, and has since expanded to over 40 restaurants with continued growth month-over-month. Serving as a new revenue stream for franchisees, Wing Boss will debut in over 20 additional locations throughout April with more locations in the works. Since introducing the virtual concept, Dickey's has seen an incremental increase in profits of over 1%.
"Wing Boss not only makes our wings and tenders more accessible, it's also an innovative business model built to cater to today's times," said Laura Rea Dickey, CEO of Dickey's Barbecue Restaurants, Inc. "As a family-owned company, we are always looking for ways to support our Owner/Operators and Wing Boss creates an additional opportunity to expand their earning potential and capitalize on the delivery trend of today's convenience-minded consumers. Due to the uniqueness that smoked chicken brings to the category, we are continuing to invest in the brand and scale it across all of our locations. Our continued innovation plays a huge role in our brand's rapid growth and we have no plans of slowing down."
To learn more about franchise opportunities with Dickey's, visit franchise.dickeys.com.