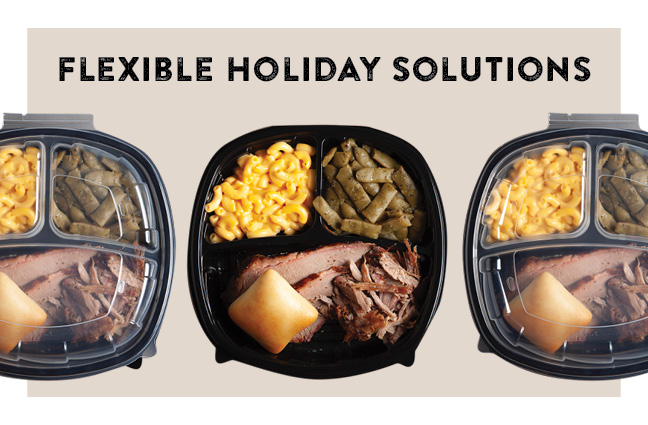 Holiday Options Create Additional Revenue for Dickey's Barbecue Franchisees
Oh, the holidays – a special time to spread joy and love, gather with friends and family and, of course, eat! This can be good and bad for restaurants as there are many factors that affect profitability during the holiday season. Some families prefer to cook at home, while many want someone else to do the heavy lifting in the kitchen.
Fast-casual restaurants, like Dickey's Barbecue Pit, tend to see better sales during this time as guests pick up food while holiday shopping or preparing meals. For Dickey's Barbecue Pit Franchise, the holidays are always a busy season due to the BBQ brand creating strategic menu offerings designed to maximize profits for franchisees. Just this year, Dickey's holiday check counts are up 26%, and systemwide sales are up 42% in number of holiday items sold over last year. That's pretty impressive!
Here's how Dickey's Barbecue Pit Franchise goes all in to help grow sales during the holiday season:
Dickey's provides multiple holiday choices for every group size and occasion. With new holiday catering options, like individualized holiday box lunches and its new ready-to-eat Holiday Big Yellow Box for mid-size gatherings of eight to 12, guests can easily feed the family or provide meals for team meetings and office lunches. Additionally, the Texas-style barbecue brand is also offering heat-and-eat options like The Complete Feast, The Dinner Feast and its À La Carte Menu for pickup and delivery throughout the holiday season.
The world's largest barbecue franchise keeps its holiday items operationally easy to execute for franchisees. Dickey's also offers multiple ways to order items so franchisees can stay focused on operating their restaurants. Guests can call, order online for pickup or delivery at participating locations and speak to a catering expert to get a free quote at 1-866-BARBECUE.
In addition to supporting franchisees in their restaurants, Dickey's drives sales for holiday offerings via ongoing marketing support. Through tactical marketing campaigns, public relations outreach and social media content, the family-owned franchise creates buzz around holiday selections and drives traffic to locations in each of Dickey's markets.
"The holiday season is a very busy and exciting time for Dickey's," said Laura Rea Dickey, CEO of Dickey's Restaurants, Inc. "Our festive options have always been great sales drivers, but we're seeing even more success this year, and we look forward to providing additional revenue growth for our operators throughout the remainder of the season."
To learn more about how Dickey's supports its franchisees, visit franchise.dickeys.com/why-dickeys/franchise-support/.