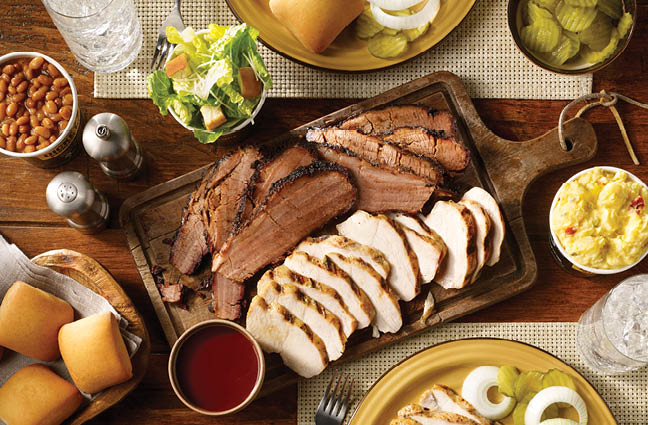 How Catering During Football Season Drives Repeat Customers for Dickey's
It's game day! You have everything ready to go — tickets, parking pass, lucky jersey, face paint. But what about the food? What is debatably the most crucial part of every tailgate can be easily overlooked when football fans try to manage a dozen things at once. That's why Dickey's Barbecue Pit has guests leave the food to the experts so they can receive a tailored, full-service catering experience at affordable prices.
The world's largest barbecue restaurant franchise's catering service guarantees to accommodate Any Event. Any Size. Any Time., which makes the perfect mantra when it comes to tailgates and watch parties for America's favorite fall pastime, making Dickey's catering a major driver in franchisees earning repeat customers.
"There is no better feeling for a customer than the peace of mind of knowing their tailgate food is being handled by our catering experts," said Laura Rea Dickey, CEO of Dickey's Barbecue Restaurants, Inc. "Dickey's catering, buffets, party platters and packs deliver all the barbecue necessities, and our team covers menu planning, preparation and cooking. Our services are the best in the barbecue business, and they lead to customer loyalty, retention and satisfaction."
Why is football season a great time for franchisees to leverage Dickey's catering services?
Exposure.
Catering is a simple way to bring Dickey's barbecue straight to fans and even introduce the brand to people who have not yet experienced the BBQ brand's pit-smoked meats and Southern sides. By catering a watch party or tailgate,  you can reach consumers who are not familiar with Dickey's, giving them the chance to sink their teeth into premium barbecue. Once they're hooked on the Texas-style barbecue brand's delicious meats and savory sides, you have a new customer for life.
Variety in ordering.
The world's largest barbecue franchise's catering provides an option for any budget and any size gathering. For small tailgates, the Box Lunch and Party Platters and Packs are perfect to fuel up before heading into the game. Or, for the larger crowds, the Delivery Buffett offers slow-smoked meats and sides delivered right to the party with preparation and setup provided by Dickey's. For the ones who go all out to prepare for the big game, Dickey's full-service catering offers the whole nine yards, including a Pit Boss ready to slice and serve guests. With all of these options, guests can select their catering preference with excellent service at a great value. Fans keep coming back, and franchisees keep winning!
Several smokin' flavors.
When guests cater their tailgates with Dickey's, they don't need to worry about who wants what to eat. Dickey's catering provides dozens of options for any craving, appetite or taste. The family-owned franchise's leading-edge catering strategy includes providing a full barbecue-loving experience with slow-smoked meats, buttery rolls, relish trays, sauces, butcher tacos, barbecue sliders, classic sandwiches, assorted desserts and more. When customers cater Dickey's, they only thing they'll ask about is when they can order more!
To learn more about best practices, testimonials and franchise opportunities with Dickey's, visit franchise.dickeys.com.