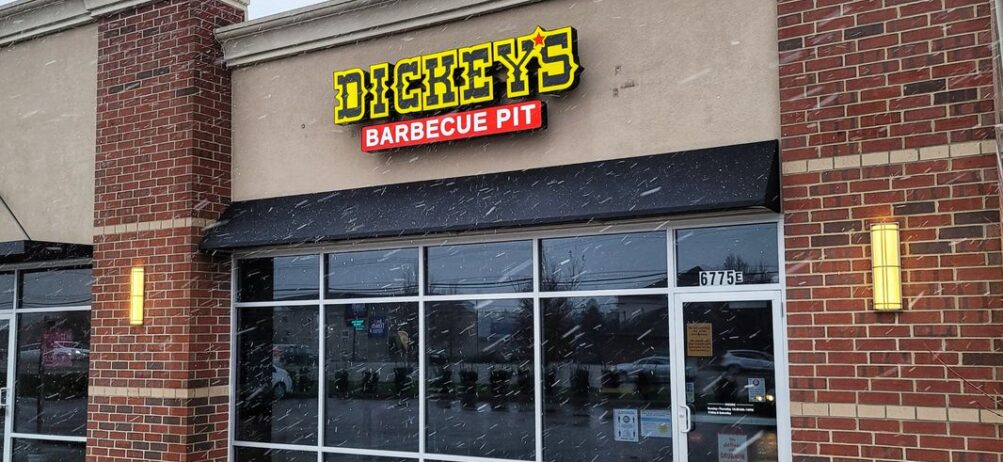 How To Open A Franchise Restaurant
Curious about how to open a franchise restaurant? Whether you're a long-time lover of a certain brand, a savvy investor looking for a new opportunity or a budding entrepreneur wanting to run your own business, owning a franchise restaurant could be the perfect fit for you.
Before you jump in, however, there are myriad aspects to consider. Every restaurant has its own concept. There are pros and cons to any investment. Likewise, a lot of steps are involved in moving forward. How do you know if you should become a franchise owner? Where do you start? To help answer these questions and walk you through the basic steps to open a franchise, here's what you need to know.
What Is a Franchise Restaurant?
A franchise restaurant is a replica of an existing, highly recognizable restaurant brand — but owned by an independent party rather than the corporate chain. Buying a franchise means buying the rights to your own branch, in which you can use the parent restaurant's brand materials, trademarks, etc., to run the business.
While you will handle day-to-day operations, you will get help from the parent company with everything from designing your location to developing protocols. Since you belong to a larger family of restaurants, you will have to comply with certain guidelines dictated by the franchisor.
What Are the Pros and Cons of a Franchise?
Typically, one of the hardest parts of starting a restaurant is developing the concept. With a franchise, that work is done for you. Joining a pre-existing company means you automatically benefit from brand recognition, corporate support, menus and other resources that have been developed for you. Likewise, being part of an established brand can mean group purchasing power to get you cheaper ingredient prices than if you were starting from scratch.
Overall, choosing to open a franchise restaurant is like starting a business backed by immeasurable support. You gain advice and feedback from fellow franchise owners in your network; previously developed and tested menus with a ready audience; help with back-of-house operations; and more.
Compared to starting your own restaurant, buying a franchise typically involves a higher upfront investment, less independence and the responsibility to meet various obligations dictated by the franchisor. Likewise, starting a franchise doesn't remove the challenges of making it in a food business. Almost all restaurants face slow periods for one reason or another. There's always the possibility of labor difficulties and/or regulatory concerns. With a franchise, however, you at least have support from your parent company if you experience these issues.
How Much Does It Cost to Open a Franchise?
When you factor in franchise fees and startup costs, the price to open a franchise restaurant can be significant. It's important to be realistic. Typically, franchise fees (which are usually non-refundable) for a sit-down restaurant range somewhere between $10,000 and $50,000 — or sometimes higher. Overall startup costs and liquid asset requirements range from $100,000 all the way up to $1,000,000.
A Step-by-Step Guide to Open a Franchise Restaurant
Buying a franchise is an exciting, yet highly involved, experience. You're looking at a lifetime investment, so it only makes sense that there are a lot of moving parts! To further lay out the process involved when you open a franchise restaurant, here are some basic steps:
Get to know your market. A good first step when thinking about opening any business is to do your research. Before you become a franchise owner trying to attract hungry consumers to your new restaurant, spend time asking yourself what you know about those consumers, as well as the area and what it needs. Here are factors worth investigating:
Competition: What competition exists for the type of restaurant you want to open? If you're thinking of opening a pizzeria, for example, how many other pizza places will you be up against, when you're trying to draw in customers? If the market is already saturated with the type of cuisine you're going to offer, will you be able to stand out from the crowd? How?
Other franchises: Another question to ask is how other restaurants are doing. Have you noticed local businesses closing? If so, why? What's causing other franchises to fold? Will those factors affect you? Finding answers to these concerns could be key in preparing you to avoid common crises in local restaurant ownership.
Target audience: Any successful business has to understand its audience. Who are your target customers, and what do they like to eat? Why do you think your restaurant would do well in your location? The more information you can gather on your market, the better for your future restaurant.
Rental Costs: Different geographic areas have different ranges for building leases. Do a little research to find out what properties are going for around the area where you're thinking about starting a franchise. What are similar locations renting for, and what would it probably cost you to secure a building?
Scout a location. Next, think about where specifically you will open your restaurant. Ideally, you want a location that's highly visible and in your price range — one where it will be easy to get the attention of locals and entice them in your doors. What's available? What would work for you? Keep in mind, too, the parent company you end up working with may be able to help you find the best site, as well as with comparing and negotiating lease options. If all you do at this point is gather some possibilities, that's still useful.
Choose a franchise. Because there are so many restaurant franchise opportunities available today, you'll want to explore the possibilities to find the right one for you.
Some factors to consider before buying a franchise include:
Your interests: Start with what you like to eat. What kind of restaurants appeal to you? What business would you like to own?
Your area: Again, think about what might be a good fit for your area. Is there a gap in cuisine options that you can fill? Are consumers looking for something that a particular brand would be able to provide?
Costs: Once you've found a few possibilities for which franchise to pick, compare the costs associated with each one. What fees are involved? What will you have to spend upfront? Be sure to consider training expenses, equipment and insurance, too.
Support: One of the biggest benefits of choosing a franchise is getting the help and power of an established brand. Take time to find out what a particular parent company would offer. What kind of benefits do you get for working with it? What help does it give to get you started? How are other franchisees doing? What terms and conditions will you have to agree to in order to work with that particular franchise?
Once you select the brand, you can apply, sign disclosures, and visit its corporate headquarters or other location to learn more about how day-to-day operations work. If you haven't already selected a site, the brand will likely assist you with scouting a good address, as well as with construction to ensure your finished location meets the parent company's standards.
Create a business plan and obtain financing. Before you can move forward with any business, you need funding. For your franchise, you'll need to acquire financing to get up and running, and lenders will want to see a detailed business plan before granting it. In many cases, the parent company will provide a lot of the information for you in your disclosure document. Gather this together and apply for your choice of financing options: a line of credit, a small business association loan, equipment financing or a term loan.
Start your business. At this point, you're ready to go through classroom-style and/or hands-on corporate training with your parent business, assemble a team of managers and employees, start setting up operations, and get your business running. You'll probably want to set up a grand opening to celebrate. Here, too, is a place where your brand may be able to provide guidance and support, walking you through the nitty-gritty details of generating buzz in your new location. Now you're on your way!
How to Buy a Franchise Restaurant From Dickey's Barbecue Pit Franchise
Do you have the qualifications to be a franchise owner? Are you a natural-born leader with management skills, a strong work ethic and a gift for inspiring people? If so, Dickey's Barbecue Pit Franchise is right up your alley. We offer low-cost investment opportunities to start a franchise of your own.
What started as a Dallas kitchen has since grown into a global brand with competition-quality food and a proven business model. Come join our family that's been serving Texas-style barbecue since 1941.
At Dickey's Franchise, we set up our franchisees for success from beginning to end. When you work with us, you can enjoy all kinds of support, including up to eight revenue streams; classic recipes; innovative IT solutions; protected territories to limit your competition; access to effective marketing campaigns; streamlined processes; and dedicated ongoing support. We give all our franchisees extensive corporate training that includes hands-on and classroom-style education. Additionally, each of our locations uses space efficiently to feature a hickory wood-burning pit, an open kitchen and a dining room in about 1,500 square feet.
If you're interested in launching a business backed by extensive experience and the brand recognition that comes from having 500 locations around the world, come talk to us. One way we help you learn more about choosing to become a franchise owner with us is through a "Discovery Day" in Dallas. In it, we take you through our corporate stores and home office, give you a chance to meet our team in-person, and show you our product firsthand. You'll also get to meet with our executives, such as CEO Roland Dickey, Jr. This can be crucial in helping you understand the Dickey's Franchise mindset, getting questions answered and knowing if this is a good fit for you.
Ready to learn more? Contact Dickey's Barbecue Pit Franchise today.