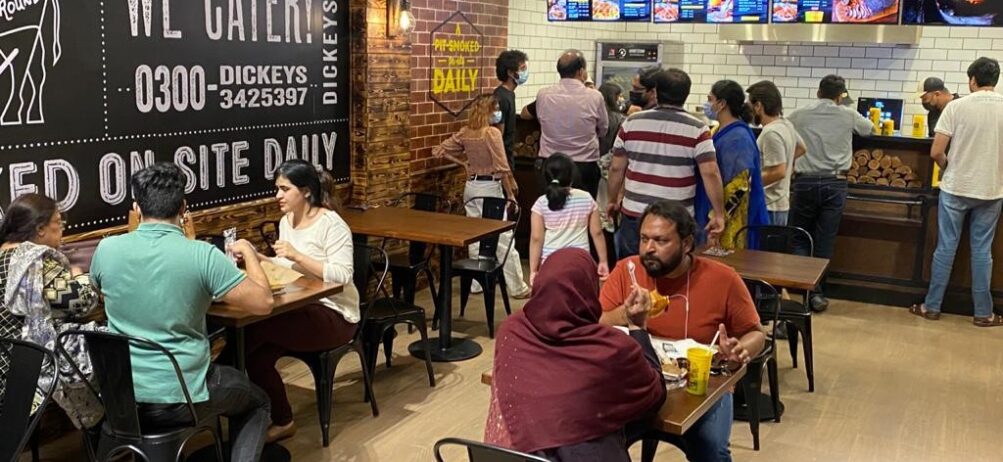 Why Dickey's is Taking Off Around the World 
With over 550 locations across the U.S., there's no doubt that demand for Dickey's Barbecue Pit's slow-smoked meats and savory sides remains high. But, as the Texas-style barbecue brand continues to drive aggressive nationwide expansion, Dickey's smokin' franchise formula is catching fire in areas across the globe.
The world's largest barbecue restaurant franchise signed a Master agreement with exclusive rights to grow its Africa presence by opening eight locations in Botswana over the span of a decade. The new locations will join Dickey's first Africa restaurant in Cairo, Egypt, along with other international locations in Japan, Singapore, Philippines and United Arab Emirates.
A multi-unit area development agreement was also signed with Chaac Foods, LLC. CEO and President Luis Ibarguengoytia to expand Dickey's Barbecue Pit footprint in the Northeast. Ibarguengoytia says he will open 48 locations over the next ten years. "We see a lot of potential in the barbecue space and love the turn-key business model; it fits neatly in our business growth plans" Ibarguengoytia said.
Dickey's Barbecue Pit opened it's first location in Brazil where the Owner Operators Bruno Gallucci and Cyro Xavier signed plans to open 110 Dickey's Barbecue Pit locations over ten years across Brazil.  And Dickey's Barbecue Pit now has a second location open in Toyko, Japan.
"Dickey's Legit. Texas. Barbecue.™ has been an American icon for 80 years," said Roland Dickey Jr., CEO of Dickey's Capital Group. "Because we've experienced such amazing success nationally, our brand continues gain popularity overseas too. With a proven track record, Dickey's is a perfect concept for international expansion. We're thrilled to watch as our brand drives further growth around the world."
Here are four reasons why Dickey's is positioned for rapid international expansion:
Multiple footprints. 
Prospective franchisees can take advantage of a variety of franchise models, including traditional brick-and-mortar restaurants and non-traditional opportunities, such as food trucks and convenience stores. Owner/operators can also choose to target high-traffic areas with mall, stadium and airport locations, or choose to open a location on a military base. Dickey's also offers a virtual kitchen model, which provides a more fast-tracked and cost-effective opportunity for franchisees.
Leading-edge technology. 
Over the last two years, Dickey's invested heavily in advanced technologies that elevated its online ordering experience for guests, resulting in increased revenue for franchisees. Dickey's enhanced digital capabilities consistently translate into success as the BBQ brand recently celebrated hitting record-breaking digital sales over Labor Day Weekend. Compared to the holiday a year prior, Dickey's saw digital sales jump 44% and digital checks were up 34%. Orders via the Dickey's Barbecue Pit App increased 62% and digital catering sales were up 36% over 2020. In total, year-over-year sales were up 13% across the country and overseas on Labor Day.
Low-cost investments. 
The cost of operating a Dickey's franchise can be approachable even in traditionally high-priced areas. Dickey's recently signed a multi-unit area development agreement with Chaac Foods, LLC to develop 48 Dickey's locations throughout the Northeast in five years, which includes Manhattan. Because the franchise investment for owning a Dickey's restaurant ranges from as little as $71,993 to upwards of $323,789, franchisees can select limited footprint models and afford to take on rent in more expensive areas.
Adaptable business model.
Dickey's flexible business model can adapt to the culture, needs and real estate of every city, and country. Consistency is a key ingredient for success and comes from using the same smoking equipment, cuts of meat, sauces and rubs imported from the U.S. At Dickey's international locations, core offerings remain mostly the same as domestic locations, but Dickey's tweaks recipes and adds special items specific to each region to be more personalized in the area. Dickey's attributes its international success to its unique adaptability to add other proteins to suit local preferences while still preparing items with the same Texas barbecue flavors. For example, along with serving its traditional American menu, Botswana's first Dickey's will feature local favorites such as lamb shank.
In addition to opening locations in Botswana, Dickey's has Master development agreements in place in Abu Dhabi, Australia, Brazil, Dubai, Pakistan, Myanmar, Taiwan and Georgia. To learn more about franchise opportunities with Dickey's, visit franchise.dickeys.com.