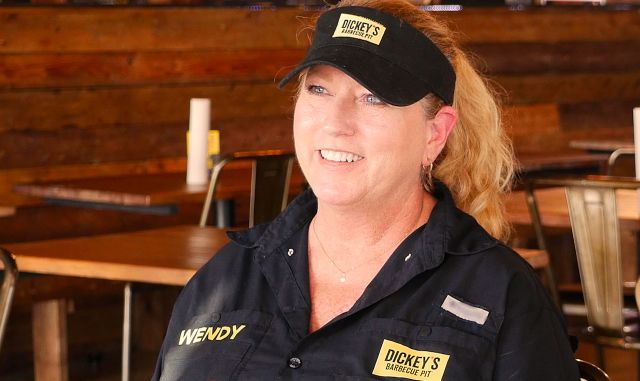 Veterans Have the Right Ingredients to be Successful Pit Masters at Dickey's
It's been 80 years since WWI Veteran Travis Dickey founded the very first Dickey's Barbecue Pit
in Dallas, Texas. Ever since that day in 1941, honoring America's heroes has been ingrained in the barbecue restaurant franchise's DNA.
Today, Dickey's commitment to supporting those who bravely serve our country remains a key component in the franchise's everyday practices. The Texas-style barbecue brand is a veteran-friendly franchise opportunity that offers incentives to help former military members invest in their own Dickey's Barbecue Pit and transition to business ownership.
What hot ticket qualities make veterans ideal for franchising a Dickey's?
As the world's largest barbecue concept, Dickey's knows a thing or two about the qualities that make a successful franchisee. Because the Armed Forces teach many valuable skills that are essential during life after military, veterans enter the workforce with training in leadership, time management, integrity and more. Franchise owners who thrive are the ones that are entrepreneurial, engaged, passionate and community-minded, all of which match the qualities veterans are instilled with during military training and service.
Army Veteran and Dickey's Pit Owner Operator, Wendy Williams, is a perfect example of a successful veteran franchisee. As a former nurse, Williams always had a passion for opening her own restaurant. Williams is originally from Louisiana, which is where she first fell in love with Dickey's Barbecue Pit. After moving to Florida, she knew it was the perfect place to open her first restaurant, despite having no prior experience in the industry. Dickey's worked with Williams to open a location in Pensacola in 2018. Williams also recently expanded her portfolio with the brand and will open her second location in Navarre Beach in the coming months.
Williams' success has largely stemmed from her community involvement. At the onset of the pandemic, she partnered with another Dickey's Owner Operator and veteran, John Lockett, to feed frontline responders in their area as a way to show appreciation to the Gulf Coast regional medical staff. Together, their mission was to feed 10,000 frontline responders.
"Wendy is a powerhouse franchisee for our brand and her partnership since joining Dickey's franchise family has been nothing short of outstanding," said Laura Rea Dickey, CEO of Dickey's Barbecue Restaurants, Inc. "Wendy's passion for building relationships in her community is one of many reasons we look forward to the success of her new location."
How does Dickey's BBQ Franchise support military veterans?
At Dickey's, veterans can receive up to 25% off the initial franchise fee in addition to receiving top-notch franchise support, extensive training and the opportunity to collaborate with fellow franchise owners through Dickey's Advisory Committees.
The family-owned franchise also recently wrapped up hosting its first-ever National Armed Forces Franchise Fee Voucher Giveaway. Dickey's gave active military and military veterans who are prospective franchisees the chance to win a voucher redeemable toward a single franchise fee of a Dickey's Barbecue Pit restaurant (approximate value of $20,000). The BBQ brand is selecting one lucky winner at random on or before Memorial Day, May 31.
"Our veterans provide a tremendous service to our country and Dickey's is honored to help make the dream of owning their own restaurant a reality," said Roland Dickey Jr., CEO of Dickey's Capital Group.
To learn more about franchise opportunities with Dickey's, visit here.