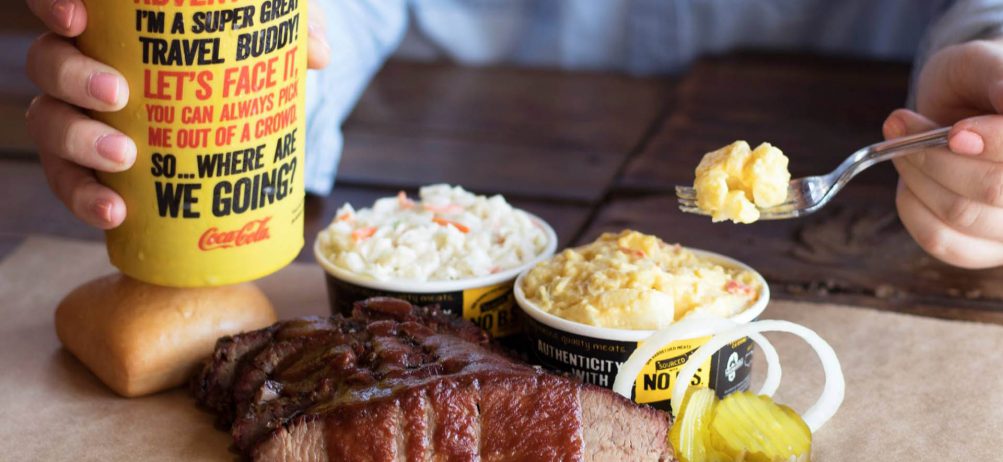 Army Engineer and Brisket Lover Opens Dickey's Barbecue Pit in Hometown
(Huntsville, AL) Larry Hoffmeister discovered Dickey's Barbecue Pit's slow smoked brisket during business trips to Texas and it immediately became a favorite. On Thursday, August 21 at 11 a.m., Hoffmeister will bring his favorite barbecue joint, Dickey's Barbecue Pit to Huntsville. To kick-off the new location, Dickey's is throwing a three-day grand opening celebration.
Thursday, the first 50 guests will receive gift cards worth up to $50. On Friday, guests can stop by for $2 pulled pork barbecue sandwiches and country music when radio station 102.1 WDRM is onsite from 11 a.m. to 1 p.m. One lucky winner will be chosen for a $500 gift card and three winners will receive free barbecue for an entire year. Saturday, the new Dickey's Barbecue Pit will offer all day merchandise giveaways which includes t-shirts, sunglasses, magnets and more!
"When I first experienced Dickey's Barbecue Pit, I knew it was a great franchise opportunity and that the people of Huntsville would love it," said first time franchise owner, Larry Hoffmeister. "This is the perfect location because we're near the second largest research park in the U.S., Cummings Research Park with over 500 corporate centers and the University of Alabama in Huntsville."
Hoffmeister graduated from the University of Alabama in Huntsville and has spent 35 years working for the U.S. Army Research Development and Engineering Center. Hoffmeister hopes to open at least two more locations in the Huntsville-Madison area.
The new Dickey's Barbecue Pit in Huntsville is located in the Bridge Street Town Centre at 6886 Governors W, Suite 112 and the phone number is 256-270-4425. Keep up with the new Dickey's Barbecue Pit on Facebook.