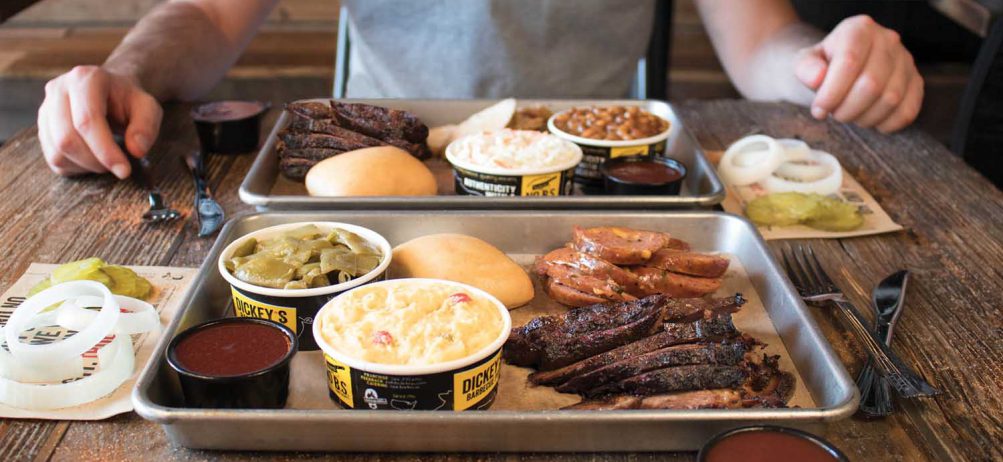 Business Partners Take On Barbecue in Home State of Mississippi with Dickey's Barbecue Pit
(Tupelo, MS) Marty Ballard and Jason Ellis have similar stories. They were both born in Mississippi and got their start at Pepsi in Tupelo. Following their time at Pepsi, they both went to work with the Little Caesars franchise. Ballard and Ellis will continue working together when they open their first Dickey's Barbecue Pit in Tupelo on Thursday, July 24 at 11 a.m.
"We have barbecue options in Tupelo, but not the Texas-style barbecue Dickey's Barbecue offers," said local owner, Jason Ellis. "The meats are slow smoked for 14 hours which makes a real difference. We're excited to share this dining experience with the community!"
Thursday kicks off with the first 50 guests receiving gift cards worth up to $50. On Friday, customers have the chance to grab Dickey's Barbecue gear with all day merchandise giveaways. Saturday, stop by for jams when radio station Wizard 106.7 is onsite from noon to 2 p.m. This location will be serving $2 pulled pork barbecue sandwiches. Also, one lucky winner will be chosen for a $500 gift card and three winners will receive free barbecue for an entire year.
Ballard owns eight Little Caesars in Mississippi and Louisiana. Ellis owns Little Caesars in Booneville.The new Dickey's Barbecue Pit in Tupelo is located at The Barnes Shopping Center at 3946 North Gloster Street, Suite F and the phone number is 662.840.9500. Can't take the wait? Keep up with this location on Facebook.