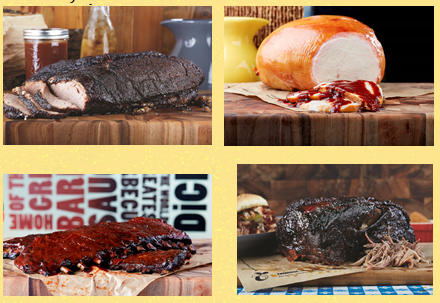 Dickey's Barbecue Adds Whole Meats Offering to Menu
(DALLAS, TX) Dickey's Barbecue, the Dallas-based franchise known for slow-smoked barbecue announced today that they will begin selling whole meat options in all stores across the country. The new menu items will be available starting July 29 and will include slow-smoked briskets, pork butts, barbecue honey hams, smoked turkeys and full racks of ribs.
"I'm excited about our new whole meat offerings because they offer our customers another choice for family meals and events," said Roland Dickey, Jr., CEO and President of Dickey's Barbecue Restaurants, Inc. "Taking home a whole smoked brisket or pork butt just smoked hot and fresh in our local pit will be a convenient new selection for our customers to enjoy."
Customers can order whole meats in the restaurants, online or via phone. Because Dickey's smokes all meats on-site, items are subject to availability to insure freshness.
"The holidays are right around the corner and our slow smoked whole meats such as our fall-off-bone ribs or juicy Barbecue Honey Ham can make throwing a party a snap," said Joette Young, Director of Marketing and Sales for Dickey's Barbecue Restaurants, Inc. "We smoke it and you take the credit!"
To kick off the launch of Dickey's new whole meat options, the company launched #DickeysAllOverYourFace a 6 week campaign that encourages fans to watch, share and comment on all social media platforms. Customers are encouraged to post photos enjoying Dickey's Ribs on Facebook. From those messy-faced photos, Dickey's will choose a winner August 30. The winner will be featured as the cover photo on the Dickey's Facebook Page and website for a day plus they will win a free rack of ribs.