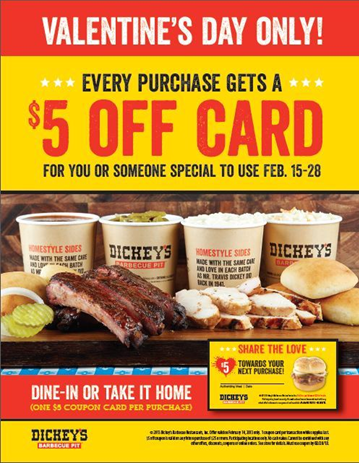 Dickey's Barbecue Invites Guests to Share the Love on Valentine's Day
(Dallas, Texas) They say the way to a man's heart is through his stomach. Cupid's arrows are aiming straight at Dickey's Barbecue for Valentine's Day and offering customers a Valentine worth $5 off to share the love.
"Valentine's Day is all about sharing the love and we think there is nothing better than sharing your love of pit smoked barbecue from Dickeys," said Roland Dickey, Jr., president and CEO of Dickey's Barbecue Restaurants, Inc. "Customers can dine in or take out a great meal at a good value on Valentine's Day and then come back at a later date with their voucher – We think that's a win-win."
Dickey's Barbecue is giving customers who eat at Dickey's on Valentine's Day a voucher worth $5 off to use towards their next purchase or share with someone they love anytime during the month of February while supplies last. The voucher also doubles as a Valentine card to give to friends and other special people.
"Our Share the Love program is a fun take on an old fashioned Valentine," said Joette Young, Director of Sales and Marketing for Dickey's Barbecue Restaurants, Inc. "We hope our customers feel the love and know just how much we appreciate them!"
For more information, call you local Dickey's today.