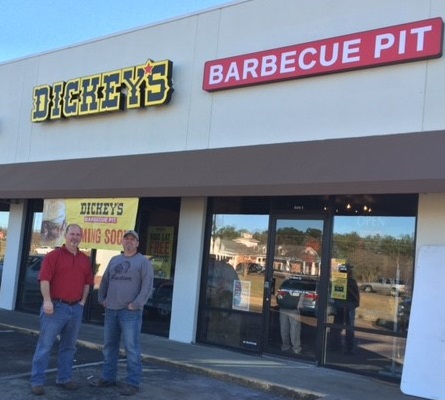 Dickey's Barbecue Pit Brings a Taste of Texas to Brandon, MS
'
The largest barbecue chain in the nation opens new location in Brandon on Thursday
(Brandon, MS) Dickey's Barbecue Pit opens Thursday with a four-day barbecue bash. The grand opening celebration begins with 'Thirsty Thursday,' when all guests receive a free Big Yellow Cup with new travel lid. On 'Philanthropy Friday' 100 percent of chip sales will benefit Barbecue, Boots and Badges, Dickey's charitable foundation which supports first responders and their families. All first responders will receive a free lunch on Friday. Saturday is 'Singer-Songwriter' Saturday, so come out and hear local musician Jeff Bates from 11:00 a.m. – 1:30 p.m. Kids eat free on Sunday as always!
Three guests will win free barbecue for a year at the new location! Guests can enter to win one of three ways: use hashtag #1FreeYearofBBQ, order online or sign up for the Big Yellow Cup Club. Winners will be announced Monday.
To find the Dickey's Barbecue Pit nearest you, click here.
"Dickey's has been very well received throughout the south, and we know that while there are many styles of barbecue, people appreciate high quality nationwide," says Roland Dickey, Jr., CEO of Dickey's Barbecue Restaurants, Inc. "We congratulate Paul, Steve and Tim Earley on opening their fourth Dickey's."
The grand opening weekend includes:
Thursday, January 21 – Thirsty Thursday – Free BYC with Dickey's new travel lid and reusable straw. The store will name their pit at the grand opening.
Friday, January 22 – Philanthropy Friday – 100% of potato chip sales benefit Dickey's foundation Barbecue, Boots and Badges, which serves the families of first responders. All first responders in uniform are invited for a free meal, and the store will deliver a free catering to a local police station.
Saturday, January 23– Singer/Songwriter Saturday. Enjoy live music from local musician Jeff Bates from 11:00 a.m. – 1:30 p.m. and get a free Big Yellow Cup!
Sunday, January 24 – Kids Eat Free All day!
Brothers Steve and Tim Earley along with their father Paul are longtime Mississippians, as their family has lived in The Magnolia State for over 40 years. The brothers first discovered Dickey's in Meridian, Mississippi and loved the authentic, slow-smoked flavor. Eventually they decided to go into business together to own and operate their own location, and this week they open their fourth store. "After opening other Dickey's stores in the neighboring towns of Richland, Madison and Flowood several Brandon residents asked us to open another location in their city," says owner/operator Steve Earley. "After looking and talking to other restaurant owners, we felt that Brandon would be an ideal place for a Dickey's."
The new Dickey's Barbecue Pit in Brandon is located at: 1323 W Government St., Brandon MS 39042. The phone number is 769-241-5151. Find Dickey's on Twitter, Facebook and Instagram.
About Dickey's Barbecue Restaurants, Inc.                         
Dickey's Barbecue Restaurants, Inc., the nation's largest barbecue chain was founded in 1941 by Travis Dickey with the goal of authentic slow smoked barbecue. Today, all meats are still slow smoked on-site in each restaurant living up to the company tagline, "We Speak Barbecue." The Dallas-based family-run barbecue franchise offers a quality selection of signature meats, home style sides, tangy barbecue sauce and free kids' meals every Sunday. The fast-casual concept has expanded to over 530 locations in 43 states. Dickey's was recognized for the third year by Nation's Restaurant News as a "Top 10 Growth Chain" and by Technomic as the "Fastest-growing restaurant chain in the country." For more information, visit www.dickeys.com or for barbecue franchise opportunities call 866.340.6188.