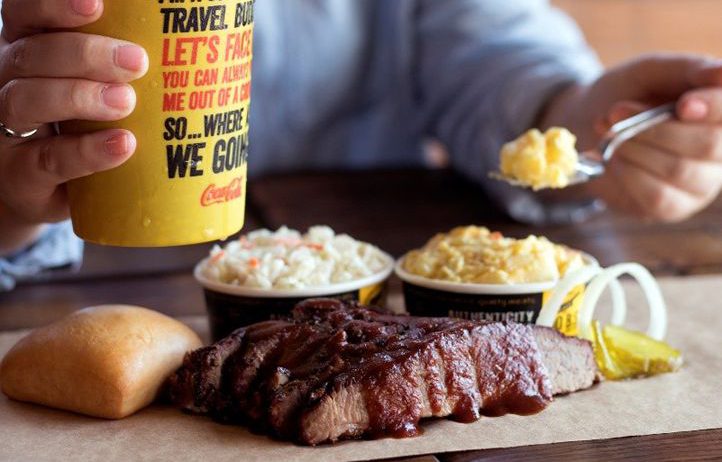 Dickey's Barbecue Pit Brings New Texas Classics to Guests
'
(Dallas, TX) Dickey's Barbecue Pit brings guests more Texas favorites withthree new options including a delicious Grilled Cheese, classic Texas Toast andsavory Cornbread Muffins for folks of all ages.
Dickey's guests will now havethe option to either purchase a Grilled Cheese in a Kids Meal with a savoryside and a Lil' Yellow Cup or as an à la carte menu item for adults. Dickey'sGrilled Cheese is made with slices of cheddar cheese melted between two piecesof buttery Texas Toast.
Guests of all ages can nowupgrade their meals with a slice of Texas Toast or a savory Cornbread Muffininstead of Dickey's classic buttery roll.
"Grilled Cheese, Texas Toastand Cornbread are all southern staples folks love and we are proud to now offerthat to our guests at all Dickey's locations nationwide," says Renee Roozen, Presidentof Dickey's Barbecue Restaurants, Inc. "Dickey's is a family-owned, family-runbusiness and we pride ourselves on serving our guests delicious food that theycan share with their family. By incorporating these new items, we are able tobetter serve all of our guests."
Guests can try these deliciousnew options by ordering online fordelivery or pickup or by going into their local Dickey's Barbecue Pit location.
About Dickey's BarbecueRestaurants, Inc.
Dickey's Barbecue Restaurants, Inc., the nation's largest barbecuechain was founded in 1941 by Travis Dickey. Today, all meats are still slowsmoked on-site in each restaurant. The Dallas-based family-run barbecuefranchise offers several slow-smoked meats and home style sides with 'No B.S.(Bad Stuff)' included. The fast-casual concept has expanded to more than 550locations in 44 states. In 2016, Dickey's won first place on Fast Casual's"Top 100 Movers and Shakers" list and in 2017 again won a top 10 onthe list. Dickey's Barbecue Pit has also been recognized by EntrepreneurMagazine, Franchise Times, and Nation's Restaurant News. For more information,visit www.dickeys.com.
###
'