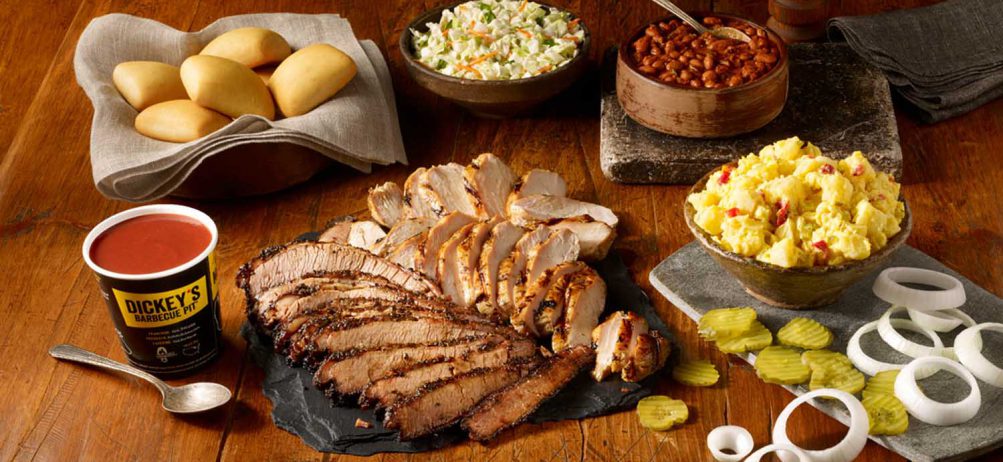 Dickey's Barbecue Pit Coming Soon to Kapolei, Hawaii
(Kapolei, HI) Dickey's Barbecue Pit franchisee Danny Malabot brings the first Dickey's Barbecue Pit location to Kapolei, Hawaii.
"We look forward to bringing our Dickey's Texas-style barbecue to Hawaii for the first time," says Laura Rea Dickey, CEO of Dickey's Barbecue Restaurants, Inc. "Our focus at Dickey's is family and authentic barbecue and I know that Danny will be successful in sharing a true Dickey's experience with the folks in his community."
With years of franchising experience, Danny was looking for a new concept to bring to Hawaii that was different from anything he had done before. After trying Dickey's Barbecue Pit for the first time in 2017, he knew the barbecue concept would be a perfect fit in his home state. The menu will feature Dickey's classic menu items such as slow-smoked brisket, a variety of savory sides, and as a franchise first, will be accompanied by more traditional Hawaiian sides such as rice.
As a 77-year-old Texas-based brand, Dickey's is known for serving guests Legit. Texas. Barbecue.™, which is smoked low and slow overnight in every location across the nation.
"I chose to bring Dickey's to Hawaii because of the delicious menu options coupled with the great atmosphere of the brand," says Danny. "I am passionate about the art of crafting authentic barbecue and look forward to serving Dickey's to my community with the support of the Dickey's Home Office back in Dallas."
The new location will offer a variety of grand opening promotions to complement Dickey's delicious barbecue options.
Find your nearest Dickey's Barbecue Pit location here or order on the Dickey's App.
About Dickey's Barbecue Restaurants, Inc.
Dickey's Barbecue Restaurants, Inc., the nation's largest barbecue chain was founded in 1941 by Travis Dickey. For the past 77 years, Dickey's Barbecue Pit locations across the nation have served guests Legit. Texas. Barbecue.™ At Dickey's, all meats are smoked low and slow on-site, every night in every location. The Dallas-based family-run barbecue franchise offers several slow-smoked meats and wholesome sides with 'No B.S. (Bad Stuff)' included. The fast-casual concept has expanded to more than 500 locations in 45 states. In 2016, Dickey's won first place on Fast Casual's "Top 100 Movers and Shakers" list and in 2018 Dickey's Barbecue Pit made the Top 10. Dickey's Barbecue Pit has also been recognized by Entrepreneur Magazine, Franchise Times and Nation's Restaurant News. For more information, visit www.dickeys.com.
###