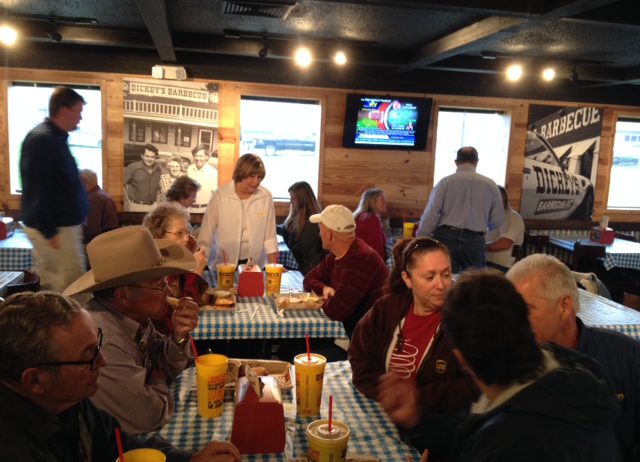 Dickey's Barbecue Pit Continues Expansion Plans Across the Grand Canyon State
'
Four-store Development Agreement signed in Arizona
(Dallas,TX) Dickey's Barbecue Pit is continuing explosive growth plans across the Southwest by bringing its signature slow-smoked barbecue to Arizona with the addition of four future store locations following a newly executed Development Agreement.The four locations in and around the Phoenix area will be located in Chandler,Gilbert, Mesa and Queen Creek and will be owned and operated by Phoenix resident Thomas Emmons.
"Dickey's Barbecue Pit has eight stores in Arizona, and we are looking forward to bringing four new locations to this particular region of the U.S.," says Roland Dickey, Jr., CEO of Dickey's Barbecue Restaurants, Inc. "We now have more than 500 locations across the U.S. and we are always looking for new opportunities for growth. Our guests in these markets have been asking for some time when we were going to open more stores here, and we are thrilled to continue to expand across Arizona."
To find the Dickey's Barbecue Pit nearest you,click here.
The new Arizona stores are slated to open over the next two years. Thomas Emmons has been an Owner / Operator for the past four years, after leaving a long career in the telecom industry preceded by service in the Marine Corps. The Texas-style barbecue restaurant has done well in Arizona, which led to the decision to open additional locations. "We are beyond thrilled to secure four new restaurants under the Dickey's brand in our home state of Arizona," Emmons said. "The Dickey's Barbecue Pit family has been nothing less than welcoming and supportive, and we look forward to utilizing this support as we continue to develop a successful business operation."  
Find Dickey's on Twitter, Facebook and Instagram.  
About Dickey's Barbecue Restaurants, Inc.
Dickey's Barbecue Restaurants, Inc., the nation's largest barbecue chain was founded in 1941 by Travis Dickey with the goal of authentic slow smoked barbecue. Today, all meats are still slow smoked on-site in each restaurant living up to the company tagline, "We Speak Barbecue." The Dallas-based family-run barbecue franchise offers a quality selection of signature meats, home style sides, tangy barbecue sauce and free kids' meals every Sunday. The fast-casual concept has expanded to over 500 locations in 43 states. This year Dickey's Barbecue was recognized for the third year by Nation's Restaurant News as a "Top 10 Growth Chain" and by Technomic as the "Fastest-growing restaurant chain in the country." For more information, visit www.dickeys.com or for barbecue franchise opportunities call 866.340.6188.
###