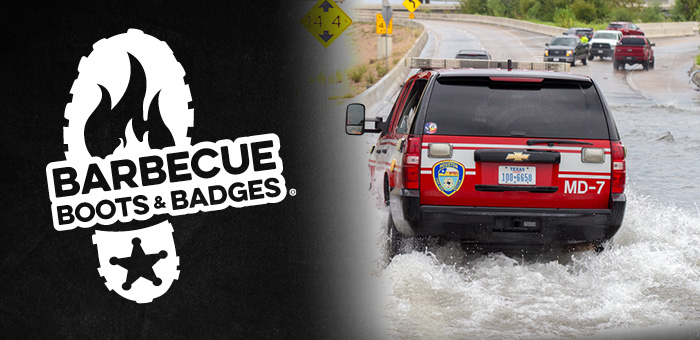 Dickey's Barbecue Pit Contributes to Hurricane Harvey Relief Efforts
'
(Dallas, TX) Throughout the month of September, long-standing Texasbrand, Dickey's Barbecue Pit. will lend ahand to their Houston neighbors affected by Hurricane Harvey. Dickey's BarbecuePit locations nationwide, along with the Dallas-based Home Office, are workingtogether to make the largest impact possible for those in need.
From September 1 through 15, all Dickey's Barbecue Pit locationsnationwide will be accepting donations through Dickey's charitable foundation Barbecue, Boots & Badges. Guests willhave the opportunity to donate to an amazing cause while also enjoying Dickey'sTexas-style barbecue. Along with in-store donations, the Dickey's Home Officewill be collecting donations from all employees. Roland Dickey, Jr. and LauraRea Dickey will personally be matching up to 25,000 dollars for relief effortsas well.
"We can and will respond thebest we can as a brand and a family to help all folks affected by HurricaneHarvey," says Laura Rea Dickey, CEO of Dickey's Barbecue Restaurants, Inc.
Dickey's will also be hosting a blood drive with Carter BloodCare onSeptember 8 from 11 a.m. to 2 p.m. All donations from this drive will be sentto Houston area hospitals. The event will be hosted at the Dickey's BarbecuePit location on Wycliff Ave. inDallas. The location will also be offering $2 pulled pork sandwiches to all whoparticipate in the drive.
Lastly, Dickey's will be partnering with national relief organizationsto send available Home Office employees to Houston to help with the rebuildingafter this great tragedy.
About Dickey's Barbecue Restaurants, Inc.
Dickey's Barbecue Restaurants, Inc., the nation's largest barbecue chainwas founded in 1941 by Travis Dickey. Today, all meats are still slowsmoked on-site in each restaurant. The Dallas-based family-run barbecue franchise offersseveral slow-smoked meats and home style sides with 'No B.S. (BadStuff)' included. The fast-casual concept has expanded to nearly 600locations in 44 states. In 2016, Dickey's won first place on Fast Casual's"Top 100 Movers and Shakers" list and in 2017 again wona top 10 on the list. Dickey's Barbecue Pit has also been recognized byEntrepreneur Magazine, Franchise Times, and Nation's Restaurant News. For moreinformation, visit www.dickeys.com.
###
'