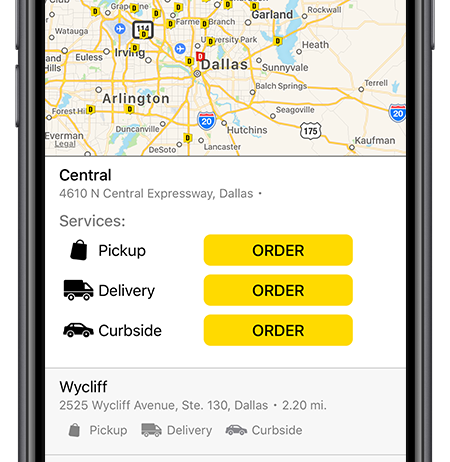 Dickey's Barbecue Pit Cues Convenience with New Mobile App
'
(Dallas, TX) The latest initiative at Dickey's Barbecue Pit brings authentic,Texas-style barbecue to guests at their fingertips with Dickey's very ownmobile app, featuring online ordering for pick-up or delivery and a new loyaltyrewards program.
"We are living in an on-demand world where most guests will choose thelocation of their next meal primarily based on convenience," says Laura ReaDickey, CEO of Dickey's Barbecue Restaurants, Inc. "Our new app rewards ourguests for their loyalty, fulfills the demand for convenience and mostimportantly, provides the authentic Texas-style barbecue they love."
From their favorite everyday menu items to a full-sizedcatering, guests can now order Dickey's for all their cravings with the touchof a button. Guests have the choice of in-store or curbside pickup, and/or deliverywhen ordering through the app. Curbsidepickup and delivery availability vary by location.
The second phase of the Dickey's app, slated to golive in March, will include a review-based loyalty program which rewards Dickey'sguests for feedback on their purchases.
The Dickey's app is currently available in theApple app store and will launch for Android in early Summer 2018.
Download the Dickey's app here.
About Dickey's BarbecueRestaurants, Inc.
Dickey's Barbecue Restaurants, Inc., the nation's largest barbecuechain, was founded in 1941 by Travis Dickey. Today, all meats are still slowsmoked on-site in each restaurant. The Dallas-based family-run barbecuefranchise offers several slow-smoked meats and home style sides with 'No B.S.(Bad Stuff)' included. The fast-casual concept has expanded to more than 550locations in 44 states. In 2016, Dickey's won first place on Fast Casual's"Top 100 Movers and Shakers" list and in 2017 again won a top 10 onthe list. Dickey's Barbecue Pit has also been recognized by EntrepreneurMagazine, Franchise Times, and Nation's Restaurant News. For more information,visit www.dickeys.com.
###
'