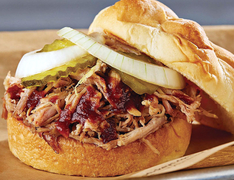 Press Release: Dickeys Barbecue Pit Expands Loyalty Program
'
Dickey's has partnered with Spendgo and Tech in a Box to create a data-driven loyalty points system for Big Yellow Cup Club
(Dallas, TX) Dickey's Barbecue Pit began the rollout of its new and improved loyalty program early this year which will add loyalty points to the existing program, Big Yellow Cup Club. Big Yellow Cup Club is now partnering with Spendgo, a loyalty customer engagement solution provider to allow guests to receive more personalized and geo-targeted specials. Members earn points that can be redeemed for free Dickey's barbecue from Big Yellow Cups to Family Packs.
Prior to the inclusion of Spendgo, Big Yellow Cup Club was a source of coupons and discounts for Dickey's guests, but did not have the extended capability for personalized and targeted marketing efforts. Spendgo goes beyond a traditional point system by integrating member preferences, Big Yellow Cup Club and online ordering to offer points on targeted offers. Dickey's now sees which offers are redeemed by members and adapts accordingly by giving guests what they want in their hometown locations. Completing the technology trifecta is Tech in a Box, which offers guests free Wi-Fi and identifies guests who redeem Dickey's special offers. Offers are delivered via text and email and points can be accumulated to redeem for free Dickey's product, from a Big Yellow Cup to a Family Pack.
Big Yellow Cup Club along with Spendgo has grown nearly 20 percent through text and email offers since the program's initiation in September 2014. Leveraging line-item and customer data in real-time is a cornerstone of the updated program. The goal is to create personalized campaigns that drive sales and new guests. "We are proud to introduce these targeted marketing efforts system-wide," said Roland Dickey, Jr., CEO of Dickey's Barbecue Restaurants, Inc. "Using the data from our loyalty programs, Dickey's is now able to offer great deals on items that guests are most interested in nation-wide."
"Our integration with Dickey's is a great example of a smart food service company that understands how to maximize growth opportunity and provide top-level services to their customers, "said Ivan Matkovic, founder and CEO of Spendgo. We applaud their efforts and are looking forward to a long-term and very successful relationship."
To learn more about franchising with Dickeys, visit www.dickeys.com/franchise or call 866-340-6188.
To find the Dickey's Barbecue Pit nearest you, click here. Find Dickey's on Twitter, Facebook and Instagram.
About Dickey's Barbecue Restaurants, Inc.
Dickey's Barbecue Restaurants, Inc., the nation's largest barbecue chain was founded in 1941 by Travis Dickey with the goal of authentic slow smoked barbecue. Today, all meats are still slow smoked on-site in each restaurant living up to the company tagline, "We Speak Barbecue." The Dallas-based family-run barbecue franchise offers a quality selection of signature meats, home style sides, tangy barbecue sauce and free kids' meals every Sunday. The fast-casual concept has expanded to over 530 locations in 43 states. Dickey's was recognized for the third year by Nation's Restaurant News as a "Top 10 Growth Chain" and by Technomic as the "Fastest-growing restaurant chain in the country." For more information, visit www.dickeys.com or for barbecue franchise opportunities call 866.340.6188.
'