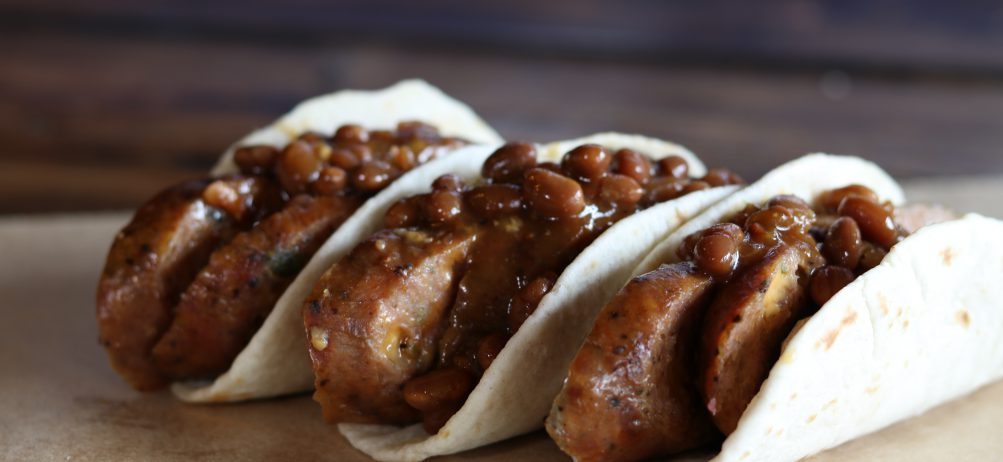 Dickey's Barbecue Pit Features Frank & Beans Taco in October, Spicing Up a Childhood Favorite
'
Dickey's offers new ways to enjoy barbecue
---
(Dallas, TX) –Dickey's Barbecue Pit is launchingFrank & Beans Tacos in the month of October, catering to those of us wholive on a diet of never-ending tacos as well as those who are looking for a newtake on classic flavors. For the entire month of October, Dickey's will bechanging the taco game again with its newest Frank & Beans Taco. The newtaco is the barbecue brand's newest limited time offer, following several monthsof pioneering new flavor combinations wrapped in a corn or flour tortilla.
The Frank & Beans Taco will feature JalapeñoCheddar Kielbasa with Barbecue Beans, wrapped in a flour tortilla and servedwith a side of taco sauce.
The promotion begins October 1, and will lastthroughout the month. The tacos can be added on to any order in-store, online or as a catering. Guests are able to ordertwo tacos for $3 or three tacos with one side and a Big Yellow Cup for $8.50.
"Dickey's Barbecue Pit has always servedauthentic, Texas-style barbecue, but now we are also adding some fun new waysto enjoy our classic flavors," says Roland Dickey Jr., CEO of Dickey's BarbecueRestaurants, Inc. To learn more about franchising with Dickey's, visit www.dickeys.com/franchise or call 866-340-6188.
To find the Dickey's Barbecue Pitnearest you, click here. Find Dickey's on Twitter, Facebook and Instagram.
About Dickey's Barbecue Restaurants, Inc.
Dickey'sBarbecue Restaurants, Inc., the nation's largest barbecue chain was founded in1941 by Travis Dickey with the goal of authentic slow-smokedbarbecue. Today, all meats are still slow smoked on-site in each restaurantliving up to the company tagline, "We Speak Barbecue." TheDallas-based family-run barbecuefranchise offers a quality selection of signature meats, home style sides,tangy barbecue sauce and free kids' meals every Sunday. The fast-casual concepthas expanded to more than 560 locations in 43 states. This year Dickey's wonfirst place on Fast Casual's "Top 100Movers and Shakers" and ranked in the top ten of Franchise Times' "Fast andSerious." Dickey's Barbecue Pit was recognized forthe third year by Nation's Restaurant News as a "Top 10 Growth Chain" and byTechnomic as the "Fastest-growing restaurant chain in the country." For moreinformation, visit www.dickeys.com orfor barbecue franchise opportunities call 866.340.6188.
###
---
'