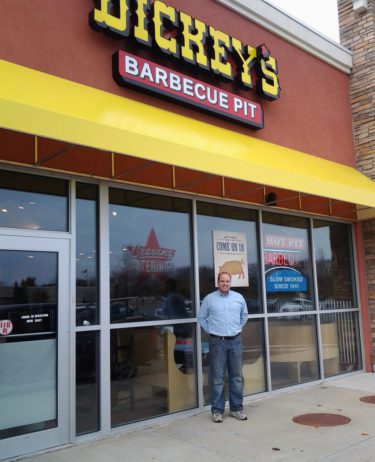 Dickey's Barbecue Pit Heating Up New York with Authentic Barbecue
'(Clifton Park, NY) Dickey's Barbecue is kicking things up at their Clifton Park location on Friday, February 1 from 11 a.m. to 1 p.m. During the grand openingevent Dickey's will be serving $1 mouthwatering Pulled Pork Barbecue sandwiches and the chance to win free barbecue for a year.
"Authentic barbecue is very hard to find in New York State," said multi-unit franchise owner Reid Grubbs. "At Dickey's we give New Yorkers a chance to taste hot off the pit barbecue at an affordable price."
Grubbs is a Virginia state native. He now resides in Queensbury, NY near his first Dickey's Barbecue location. His previous career was in the finance sector. He was looking for a new career adventure when he signed on with Dickey's back in 2011.
"Barbecue is a huge part of southern culture, but it translates really well to other parts of the country," said Roland Dickey, Jr., president of Dickey's Barbecue Restaurants, Inc. "Our brand is really catching on up North and we're excited to be sharing our passion for barbecue with New York."
This new location in Clifton Park is located at 22 Clifton Country Rd. and the store phone number is 518-396-5844. At Friday's event, Dickey's will be raffling off free barbecue for year, there will be three winners chosen.