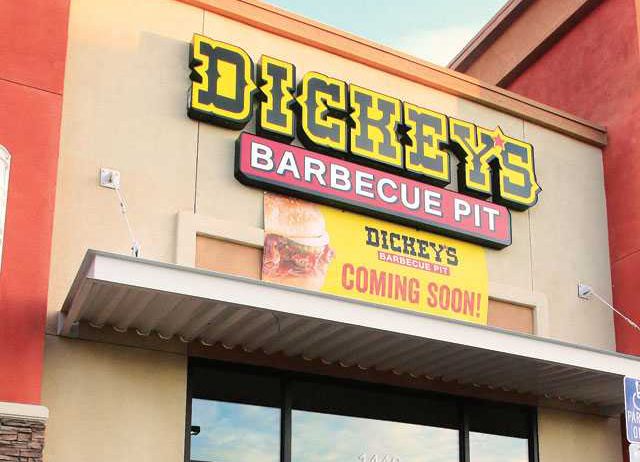 Dickey's Barbecue Pit Inks Five-store Deal with Veteran Carl's Jr. Operators In Washington State
'
The nation's largest barbecue chain currently has 20 locations in the state with plans to open five more.
(Dallas, TX) Dickey's Barbecue Restaurants, Inc. continues to expand nationwide with a development agreement recently signed for five additional stores in the state of Washington. The new Dickey's Barbecue Pit stores will be located throughout Eastern Washington in the Spokane region. Owner/Operator Mark Engberson has partnered with Palouse Restaurant Group to open the five new stores. Together the group owns a variety of fast casual and QSR concepts including Carl's Jr., Subway, Wingstop and more. With over 80 years of combined experience in franchise foodservice, they have the skill and expertise backed by a national brand to deliver quality, slow-smoked barbecue to their communities.
"We were ready to diversify our portfolio and after speaking to other Dickey's Owner / Operators, we knew it was the right choice," Engberson says. "With hard work, delicious, quality food and community spirit, we plan to earn our guest's loyalty and we look forward to bringing Texas barbecue with a side of southern hospitality to our community." Already Engberson's store in Spokane has won first place in the "Best of Spokane 2015" barbecue division. The store's team will receive the award at the October 16 event located at the Lincoln Center.
The Pacific Northwest is one of several hot markets for the barbecue chain. With many development agreements in the works from Florida to California, Dickey's Barbecue Pit is truly a bi-coastal brand. Franchisees have distinct benefits which Dickey's Barbecue Restaurants, Inc. has become known for, including hands-on training, community marketing support and low franchise fees. For more information on franchising with Dickey's Barbecue Pit, call 866.340.6188.
"The residents of Spokane got their first Dickey's Barbecue Pit more than two years ago, and since then our authentic slow-smoked Texas barbecue has been very well received." said Roland Dickey, Jr. CEO of Dickey's Barbecue Restaurant's, Inc. "We congratulate Mark and the team at Palouse Restaurant Group and can't wait to help them get started on their new stores."
To find the Dickey's Barbecue Pit nearest you, click here. Find Dickey's on Twitter, Facebook and Instagram.  
About Dickey's Barbecue Restaurants, Inc.
Dickey's Barbecue Restaurants, Inc., the nation's largest barbecue chain was founded in 1941 by Travis Dickey with the goal of authentic slow smoked barbecue. Today, all meats are still slow smoked on-site in each restaurant living up to the company tagline, "We Speak Barbecue." The Dallas-based family-run barbecue franchise offers a quality selection of signature meats, home style sides, tangy barbecue sauce and free kids' meals every Sunday. The fast-casual concept has expanded to over 500 locations in 43 states. This year Dickey's Barbecue was recognized for the third year by Nation's Restaurant News as a "Top 10 Growth Chain" and by Technomic as the "Fastest-growing restaurant chain in the country." For more information, visit www.dickeys.com or for barbecue franchise opportunities call 866.340.6188.
###