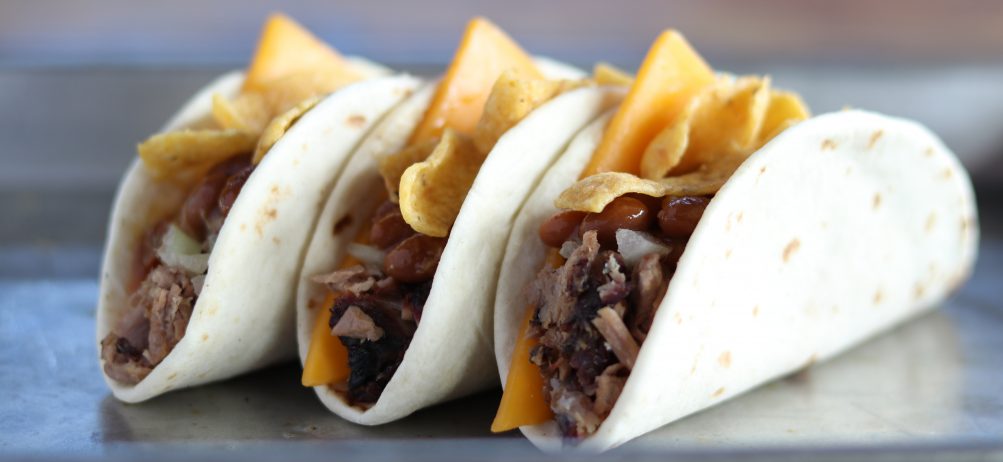 Dickey's Barbecue Pit Introduces Their Newest Taco LTO: The Frito's Pie Taco
Dickey's offers itsguests new ways to eat delicious slow-smoked barbecue
---
(Dallas, TX)Dickey's Barbecue Pit is launching itsnewest limited time offer for the month of November, the Frito's™ Pie Taco.Dickey's is once again changing the barbecue game by not only offering itsguests delicious slow-smoked barbecue, but is offering it in a mouthwateringtaco!
The Frito'sPie Taco will feature Dickey's slow-smoked beef brisket with barbecue beans,topped with onions, crispy Frito's and a cheddar cheese.
Thepromotion begins November 1 and will last throughout the month. The tacos canbe added on to any order in-store, onlineor as a catering. Guests canorder two tacos for $3 or three tacos with one side and a Big Yellow Cup for$8.50.
"Dickey'sBarbecue Pit has proudly served authentic, Texas-style barbecue for the past 75years, and we are happy to offer our guests delicious new options to enjoy ourclassic flavors," says Roland Dickey, Jr., CEO of Dickey's Barbecue Restaurant,Inc. To learn more about franchisingwith Dickey's, visit www.dickeys.com/franchise or call 866-340-6188.
To find theDickey's Barbecue Pit nearest you, click here. FindDickey's on Twitter, Facebook and Instagram.
About Dickey's Barbecue Restaurants, Inc.
Dickey's Barbecue Restaurants, Inc., the nation's largest barbecue chainwas founded in 1941 by Travis Dickey with the goal of authenticslow-smoked barbecue. Today, all meats are still slow smoked on-site in eachrestaurant living up to the company tagline, "We Speak Barbecue." TheDallas-based family-run barbecuefranchise offers a quality selection of signature meats, home style sides,tangy barbecue sauce and free kids' meals every Sunday. The fast-casual concepthas expanded to more than 560 locations in 43 states. This year Dickey's wonfirst place on Fast Casual's "Top100 Movers and Shakers" and ranked in the top ten of Franchise Times' "Fastand Serious." Dickey's Barbecue Pit wasrecognized for the third year by Nation's Restaurant News as a "Top 10 GrowthChain" and by Technomic as the "Fastest-growing restaurant chain in thecountry." For more information, visit www.dickeys.comor for barbecue franchise opportunities call 866.340.6188.
###