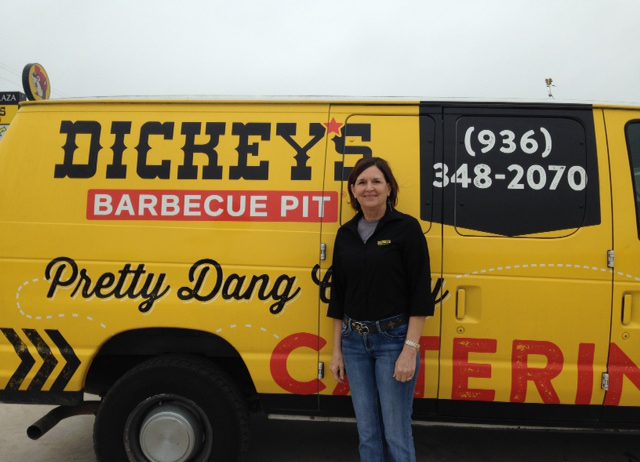 Dickey's Barbecue Pit is Now Slow-Smoking in Madisonville
'
Dickey's Barbecue Pit Grand Opening Includes $2 Sandwiches, Free Barbecue for a Year and Gift Card Giveaways
(Madisonville, TX) This Thursday, Madisonville gets a taste Texas' most well-known barbecue when Dickey's Barbecue Pit opens its doors. Guests can enjoy slow-smoked specials and giveaways during the three-day grand opening celebration. The first 50 guests to arrive on Thursday will receive gift cards up to $50, and the store will feature a different deal daily, with the first 100 guests receiving a free Big Yellow Cup on Friday and $2 pulled pork sandwiches from 11:00 AM – 2:00 PM on Saturday. Three guests will win free barbecue for a year! To find the Dickey's Barbecue Pit nearest you, click here.
"We are proud to open our newest store here in our home state," says Roland Dickey, Jr., CEO of Dickey's Barbecue Restaurants, Inc. "Madisonville is a great location for slow-smoked barbecue, and we anticipate that this store will be very well-received in this community."
The three-day grand opening includes:
Thursday, November 19 kicks off with the first 50 guests receiving gift cards worth up to $50. The next 100 guests will receive a voucher for a free quarter plate with the purchase of a Big Yellow Cup.
Friday, November 20 the first 100 guests will receive a free Big Yellow Cup and the store will give away free Dickey's goodies all day.
Saturday, November 21 the new store will serve guests a barbecue bargain with $2 pulled pork sandwiches from 11:00 AM – 2:00 PM. One lucky winner will be chosen for a $500 gift card and three winners will receive free barbecue for an entire year at 2:00 PM. Guests must be present to win. Drawings will be held at 12:30 PM, 1:00 PM, 1:30 PM and 2:00 PM.
The new Dickey's Barbecue Pit in Madisonville is located at 3303 East Main Street, Madisonville TX 77864. The phone number is (936) 348-2070. Find Dickey's on Twitter, Facebook and Instagram.
Owner/Operator Jani Foster has worked in the restaurant business for 30 years with partners John Lusk and James Carter. This store is a joint venture between the three partners. "We look forward to bringing excellent food and customer service to the community in Madisonville," Foster said. "We hope to build lasting relationships with people as we provide quality slow-smoked barbecue."
About Dickey's Barbecue Restaurants, Inc.
Dickey's Barbecue Restaurants, Inc., the nation's largest barbecue chain was founded in 1941 by Travis Dickey with the goal of authentic slow smoked barbecue. Today, all meats are still slow smoked on-site in each restaurant living up to the company tagline, "We Speak Barbecue." The Dallas-based family-run barbecue franchise offers a quality selection of signature meats, home style sides, tangy barbecue sauce and free kids' meals every Sunday. The fast-casual concept has expanded to over 520 locations in 43 states. Dickey's was recognized for the third year by Nation's Restaurant News as a "Top 10 Growth Chain" and by Technomic as the "Fastest-growing restaurant chain in the country." For more information, visit www.dickeys.com or for barbecue franchise opportunities call 866.340.6188.