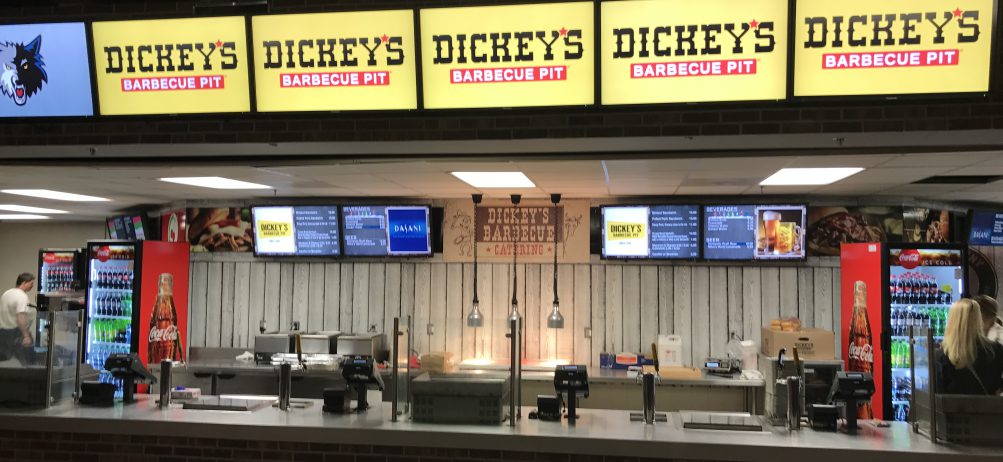 Dickey's Barbecue Pit is the Newest Basketball Sensation
'
Dickey's is nowserving delicious, slow-smoked barbecue at the Target Center in Minneapolis
---
(Minneapolis,MN) Dickey's Barbecue Pit has prideditself on serving authentic, slow-smoked barbecue for the past 75 years topeople across the nation. Dickey's in Minnesota now has the opportunity to notonly serve the people of Minneapolis, but also serve them while they areenjoying one of the nation's favorite past times, professional basketball.
"The Dickeyfamily congratulates Tom Eggerud on his new venture with Dickey's BarbecuePit," says Roland Dickey, Jr., CEO of Dickey's Barbecue Restaurants, Inc."Dickey's is expanding rapidly throughout the nation and we are proud to havethe opportunity to open our first Dickey's location in an arena."
Tom Eggerudis the owner of two Dickey's locations, making him an expert at delicious, Texas-stylebarbecue. When the Target Center reached out to him with an opportunity forDickey's to have concessions stands at the arena it was something that he couldnot turn down. For the remainder of the Timber Wolves season, Eggerud and hisstaff will be serving Texas-style barbecue to fans and foes of the MinnesotaTimber Wolves. Though there is not a full menu in the concession stands,Eggerud offers delicious barbecue sandwiches, savory sides and Minnesota craftbeer.
The Target Centeris currently remodeling, and Eggerud looks forward to the opportunity to haveDickey's concession stands in the updated arena in the coming years. "It is agreat opportunity to showcase our brand at various events, as the Target Centerhosts over 200 events a year," says Eggerud. "We are excited and proud to servedelicious, slow-smoked barbecue to its guests."
To find the Dickey's Barbecue Pitnearest you, click here.
Find Dickey's on Twitter, Facebook and Instagram.
About Dickey's Barbecue Restaurants, Inc.
Dickey's Barbecue Restaurants, Inc., the nation's largest barbecue chainwas founded in 1941 by Travis Dickey with the goal of authenticslow-smoked barbecue. Today, all meats are still slow smoked on-site in eachrestaurant living up to the company tagline, "We Speak Barbecue." TheDallas-based family-run barbecuefranchise offers a quality selection of signature meats, home style sides,tangy barbecue sauce and free kids' meals every Sunday. The fast-casual concepthas expanded to more than 570 locations in 43 states. This year Dickey's wonfirst place on Fast Casual's "Top100 Movers and Shakers" and ranked in the top ten of Franchise Times' "Fastand Serious." Dickey's Barbecue Pit wasrecognized for the third year by Nation's Restaurant News as a "Top 10 GrowthChain" and by Technomic as the "Fastest-growing restaurant chain in thecountry." For more information, visit www.dickeys.comor for barbecue franchise opportunities call 866.340.6188.
###
'