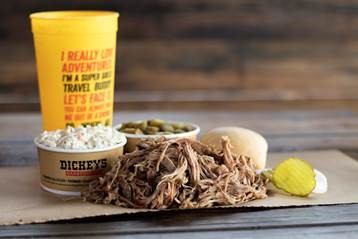 Dickey's Barbecue Pit Offers Pulled Pork and Pigskin Deal for Football Watching Parties
'
Enjoy a free pound ofpulled pork with the purchase of an XL Family Pack
---
(Dallas, TX)Nothing goes together better than football and barbecue, and Dickey's Barbecue Pit is offering an amazing specialto celebrate the big game all week long. Beginning January 30 and lastingthroughout the week, Dickey's will give away a free pound of pulled pork withthe purchase of an XL FamilyPack. This 'Pulled Pork and Pigskin' special is the perfect way to feedlinebacker-sized appetites at football watching parties with Dickey's authenticbarbecue that is pit-smoked on-site daily. The XL Family Pack feeds up to 8people, and the extra pound of pork is the perfect add-on for a big party.
The catch?This offer is available with the code word, "tightend" when ordering yourpit-smoked barbecued online. The offer can also be redeemed through a printablecoupon found on the Dickey's website on the promo page.
To receiveother specials like 'Pulled Pork and Pigskin', sign up for Dickey's Big YellowCup Club here.
To orderthis deal online, visit Dickey's locationspage to select your pickup location or visit your nearest locally ownedDickey's Barbecue Pit.
"Dickey'sBarbecue Pit has always been known for catering events of any size andoccasion," says Renee Roozen, President of Dickey's Barbecue Restaurants, Inc. "Weare excited about this offer because it allows guests to maximize theirwatching party meal with delicious, slow-smoked barbecue."
To find theDickey's Barbecue Pit nearest you, click here.
About Dickey's Barbecue Restaurants, Inc.
Dickey's Barbecue Restaurants, Inc., the nation's largest barbecue chainwas founded in 1941 by Travis Dickey with the goal of authentic,slow-smoked barbecue. All meats are still slow smoked on-site in eachrestaurant which is why at Dickey's, "We Speak Barbecue." The Dallas-basedfamily-run barbecue franchiseoffers a quality selection of signature meats, savory sides, tangy barbecuesauce and free kids' meals every Sunday. The brand has expanded to nearly 600locations in 44 states. In 2016, Dickey's won first place on Fast Casual's "Top100 Movers and Shakers" and ranked in the top ten of Franchise Times' "Fastand Serious." Dickey's Barbecue Pit wasrecognized for the third year by Nation's Restaurant News as a "Top 10 GrowthChain" and by Technomic as the "Fastest-growing restaurant chain in thecountry." For more information, visit www.dickeys.comor for barbecue franchise opportunities call 866.340.6188.
###
'