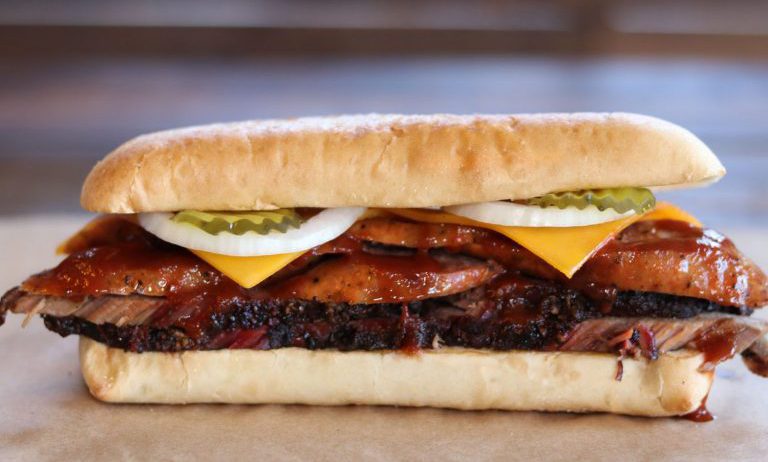 Dickey's Barbecue Pit Offers Westerner Wednesdays Deal Throughout August
'
(Dallas, TX)—August marks the final month of Dickey's Barbecue Pit's Slow-Smoked Summer of Sandwiches promotion. Every Wednesday all month long, Dickey's signature Westerner Sandwich is offered for $5 in most markets.*
The Westerner is a Texas-sized sandwich made with guests' choice of two slow-smoked meats, topped with cheddar on a toasted Hoagie. Guests can mix and match from Dickey's wide variety of delicious, "No B.S." meats: pulled pork, sliced or chopped beef brisket, chicken breast, polish sausage, jalapeño cheddar sausage, or turkey.
"At the beginning of June we estimated we would sell 1,000,000 sandwiches this summer, and boy, did we underestimate ourselves," said Laura Rea Dickey, CEO of Dickey's Barbecue Restaurants, Inc. "We have already surpassed this goal, and there's still a month left in summer! We are thrilled to see how much our guests have been enjoying the Slow-Smoked Summer of Sandwiches deals and are proud to serve them our most popular sandwich on Westerner Wednesdays throughout August."
To find the store nearest you, click here. Find Dickey's on Twitter, Facebook and Instagram.
*The Westerner sandwich will be priced at $6 in the following states: California, New York, Oregon and Washington.
About Dickey's Barbecue Restaurants, Inc.
Dickey's Barbecue Restaurants, Inc., the nation's largest barbecue chain was founded in 1941 by Travis Dickey. Today, all meats are still slow smoked on-site in each restaurant. The Dallas-based family-run barbecue franchise offers several slow-smoked meats and home style sides with 'No B.S. (Bad Stuff)' included. The fast-casual concept has expanded to nearly 600 locations in 44 states. In 2016, Dickey's won first place on Fast Casual's "Top 100 Movers and Shakers" list. Dickey's Barbecue Pit has also been recognized by Entrepreneur Magazine, Franchise Times, and Nation's Restaurant News. For more information on Dickey's awards, visit www.dickeys.com.
###
'