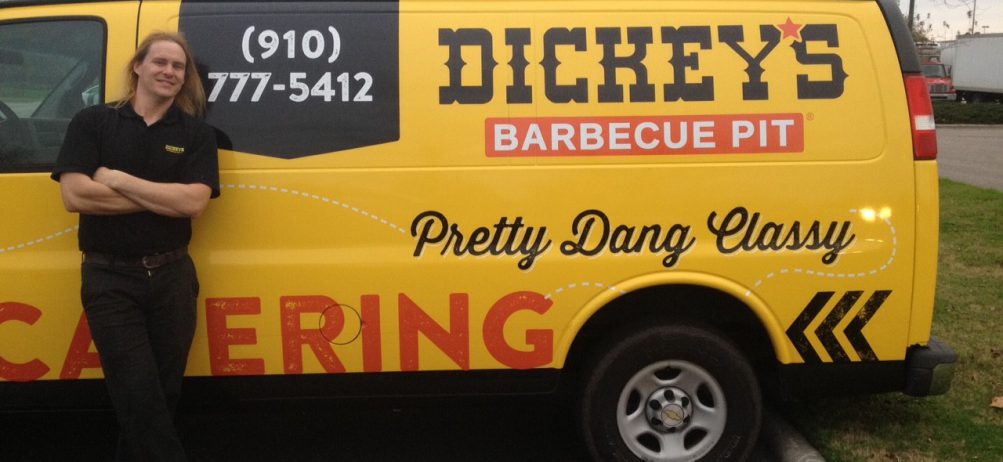 Dickey's Barbecue Pit Opens in Wilmington with Barbecue Bash
'
The new store in Wilmington will offer free Big Yellow Cups and barbecue for a year giveaways 
(Wilmington, NC) Dickey's Barbecue Pit Owner / Operator Eric Evans will celebrate the opening of his Wilmington location this week. To celebrate, three lucky guests will win free barbecue for an entire year! Guests can enter to win free barbecue for a year by using #1FreeYearOfBBQ on social media, by placing an order for the new location online or by signing up for the Big Yellow Cup Club to receive special offers and promotion details. In addition, the store will give away free Big Yellow Cups to guests all day Thursday, January 7.
"Dickey's has been extremely well-received throughout North Carolina and we look forward to bringing quality hickory-smoked barbecue to the Wilmington community," says Roland Dickey, Jr., CEO of Dickey's Barbecue Restaurants, Inc. "We congratulate Eric on the opening of his first Dickey's location."
Thursday, January 7 guests will receive free Big Yellow Cups all day!
Friday, January 8 100% of Dickey's signature potato chips sales will benefit the barbecue chain's charitable foundation, Barbecue Boots & Badges.
Saturday, January 9 is Singer Songwriter Saturday. The new store will feature a local acoustic musician playing live music at the store from 6 pm – 8 pm.
Sunday, January 10 kids eat free all day!
Originally from Brunswick County, NC, Owner / Operator Eric Evans worked for years at International Paper when he decided it was time to open a Dickey's franchise because it offered an authentic Texas barbecue experience, where all quality meats are slow-smoked overnight with careful preparation and never reheated. "Wilmington is a great market for Dickey's because the area is experiencing strong growth and has become a vacation destination with so many great beaches nearby. I'm looking forward to helping people, from providing jobs to my team members to providing guests with quality home-style food at a great price, plus seeing a return on my investment personally, I truly can't wait," said Eric.
The new Dickey's Barbecue Pit in Wilmington is located at: 5120-104 S. College Rd., Wilmington, NC 28412.  The phone number is 910-777-5412. Find Dickey's on Twitter, Facebook and Instagram.
About Dickey's Barbecue Restaurants, Inc. 
Dickey's Barbecue Restaurants, Inc., the nation's largest barbecue chain was founded in 1941 by Travis Dickey with the goal of authentic slow smoked barbecue. Today, all meats are still slow smoked on-site in each restaurant living up to the company tagline, "We Speak Barbecue." The Dallas-based family-run barbecue franchise offers a quality selection of signature meats, home style sides, tangy barbecue sauce and free kids' meals every Sunday. The fast-casual concept has expanded to over 530 locations in 43 states. Dickey's was recognized for the third year by Nation's Restaurant News as a "Top 10 Growth Chain" and by Technomic as the "Fastest-growing restaurant chain in the country." For more information, visit www.dickeys.com or for barbecue franchise opportunities call 866.340.6188.