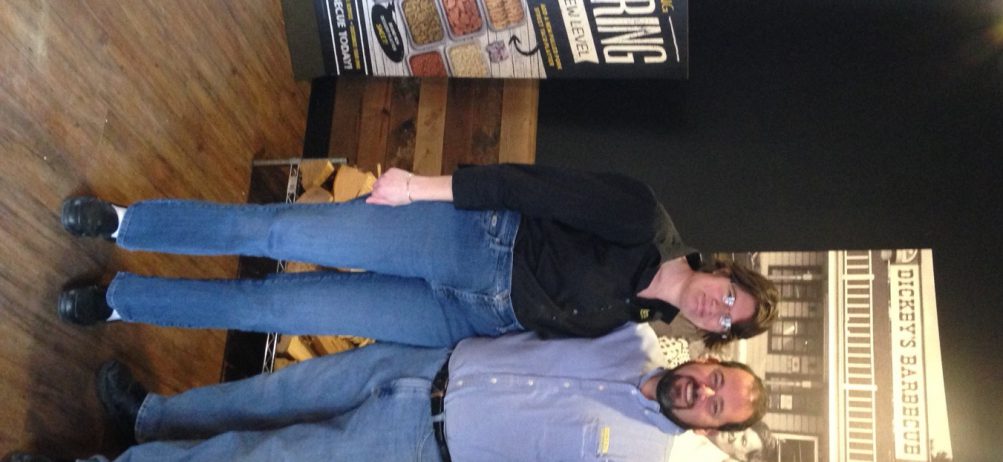 Dickey's Barbecue Pit Opens March 2 in Easton
'
The new locationwill offer four weeks of specials and giveaways
---
(Easton, PA) Dickey's Barbecue Pit opens in Easton Thursday,March 2 with four weeks of specials and giveaways, including freebarbecue for a year for three lucky guests. To enter to win, guests caneither like the DickeysEaston Facebook page and post usinghashtag #1FreeYearofBBQ,order online or sign up for the Big Yellow Cup Club to receive loyalty points and members-only specials.The first four Thursdays after opening, Dickey's will offer the first 50 guestsa complimentary special treat. On Fridays, the new store will offer 50 percentoff meals for uniformed first responders, and guests will have the opportunityto donate to Dickey's charitable foundation, Barbecue, Boots & Badges. On Sundays at Dickey's, kids under12 eat free with every purchase of an adult dine-in meal of $10 or more.
To join Dickey's Big Yellow Cub Cluband receive members-only specials and discounts, click here.
"The Dickey's Barbecue Pit familycongratulates Ken Lynch on opening his second Dickey's Barbecue Pit location inPennsylvania," says Laura Rea Dickey, CEO of Dickey's Barbecue Restaurants,Inc. "Dickey's Barbecue Pit locations nationwide pride themselves on servingtheir communities authentic, slow-smoked barbecue and we are pleased to havepassionate Owner/Operators like Ken Lynch as a part of our family."
Doors open thisThursday and guests can enjoy the grand opening events over thenext four weeks:
Thirsty Thursdays—All guests will receive a free iconicBig Yellow Cub with a reusable travel lid and straw. The first 50 guests willalso receive a complimentary special treat.
Philanthropy Fridays— "You Give, We Give": guests who donateto Dickey's charitable foundation, Barbecue, Boots & Badges, will receive a gift card inappreciation for supporting Dickey's foundation. Uniformed first respondersalso receive 50 percent off their meal.
Singer/Songwriter Saturdays— Enjoy live music from a localmusician.
Kids Eat Free All Day Every Sunday with the purchase of a $10 dine-in meal per adult.
To find the Dickey's Barbecue Pitnearest you, click here.
Ken Lynch opens his second locationwith his wife Kathleen in their community of Easton. After opening their firstDickey's Barbecue Pit location, the Lynch family knew they needed to openanother location and have been planning and preparing their community eversince. "We plan to make Dickey's an integral part of our community and lookforward to what the future holds," says Lynch. "We have donated 2000 poundsof our extra food from our Stroudsburg location to the homeless through theMonroe County Homeless Initiative and we pledge to do the same for our Eastonlocation through Safe Harbor."
Residents of Easton can find theirnewest Dickey's location at 25th Street Shopping Plaza, 2411Nazareth Rd. Easton, PA 18045. The phone number is 484-546-2488.
Find Dickey's Barbecue Pit on Facebook, Instagram and Twitter.
About Dickey's Barbecue Restaurants, Inc.
Dickey's BarbecueRestaurants, Inc., the nation's largest barbecue chain was founded in 1941by Travis Dickey. Today, all meats are still slow smoked on-site in eachrestaurant. The Dallas-based family-run barbecue franchise offers eight signature meats,seven savory sides, tangy barbecue sauce and free kids' meals every Sunday. The fast-casual concept has expanded to nearly600 locations in 44 states. In 2016, Dickey's won first place on Fast Casual's"Top 100 Moversand Shakers"list. Dickey's Barbecue Pit has also been recognized by EntrepreneurMagazine, Franchise Times, and Nation's Restaurant News. For more informationon Dickey's awards, visit www.dickeys.com
###
'